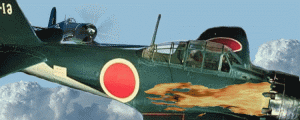 (Animation created by Graham Ward.)
The following books are available for
online purchase from Amazon.com.
Important Note: Please use the links on our pages to order your books, or we will not be credited with the sale.




Corsair KD431: The Time Capsule Fighter
By David Morris

This book details the impeccable restoration of Corsair KD431 by the Fleet Air Arm Museum in Yeovilton, UK, creating what is probably the world's most authentic and original vintage aircraft. This fascinating book will appeal to warbird enthusiasts, historians, researchers, detailers, modelers, pilots, and anyone with an interest in WWII history.





Bent Wings -- F4U Corsair Action and Accidents:
True Tales of Trial and Terror
By Fred Blechman

The author, a Korean War-era Corsair pilot, takes you right inside the cockpit of an F4U in combat with his vivid description and storytelling ability.





Corsair: The F4U in World War II and Korea
By Barrett Tillman

This is the story of the airplane that became a legend. This fast-paced book includes facts and conventional history, but also the human dramas of the many men who piloted them to fame.





Vought F4U Corsair (Warbird Tech Series, Vol. 4)
By Barrett Tillman

Revised and updated with color photos, this book examines the design and construction of the Corsair, and includes details about air racing modifications, Korean versions, carrier operations, etc.)





Pilot's Handbook for Navy Models F4U-5, -5N, -5N1, -5P Corsair

A facsimile reprint of the original flight manual for the F4U-5 Corsair, as originally published in 1951. Includes details of all cockpit instrumentation, normal and emergency checklists, descriptions of operations equipment, performance charts, and much more.





F4U Corsair (Motorbooks International Warbird History)
By Nick Veronico

Probably the best F4U book written to date. This book examines each model with stories from aces, test pilots, and others who flew the plane. Good coverage of the radar equipped night fighters, Corsairs in service in South America, in the movies, and the races.





Corsair Aces of World War 2 (Osprey Aircraft of the Aces #8)
By Mark Styling and Jerry Scutts

Many interesting first-hand pilot accounts of Corsair combat missions in the Pacific, plus photographs and detailed color aircraft profiles.





Cowboy Down: A WWII Marine Pilot's Story
By Glenn "Bud" Daniel

The author tell us the story of his military service, particularly of the story of his Marine unit, VMF-114, a squadron of Corsair fighter pilots locked in one of the most bloody battles of the Pacific Theatre: the Battle of Peleliu. Central to his story are the special and enduring bonds that form between brothers in arms and of the tragic loss of their beloved leader, Major Robert "Cowboy" Stout, the heroic leader of his squadron and an Ace of Guadalcanal.





Roaring Glory Warbirds, Volume 3: Vought F4U Corsair (DVD)
Produced by By Navarre Video
Color, Not Rated, Region 1 (USA and Canada)

With modern color footage of the Planes of Fame Museum's Corsair, a detailed look inside the cockpit, WWII archival footage, and an original pilot training film, this DVD is chock-full of entertainment. However, this is more than just a video -- it allows you to view a complete Pilot's Handbook on your computer, as well.
Can't find what you're looking for?
Search Amazon.com for other great books and videos here:
Your purchases directly support the improvement
and growth of the Warbird Alley web site.
Thank you!
---

[ Back to F4U Corsair Page ]

© 2016 The Doublestar Group, All Rights Reserved