Twenty-one years.
Millions of visitors.
One focus:
Warbirds.
---
Site Menu:

News (Updated 4 November 2021)
Aircraft
Maintenance/Restoration
Organizations
Museums
Airshows
Fly A Warbird
Bookstore
Flight Simulator Store
Articles
Pilot Resources
Miscellaneous Links
Submit Items
or Use Our Material
About Us
Warbird T-Shirts and Hats
Threat Watch Page
What's A Warbird?
---
Visit our Affiliates:

---
---
Like this site?
---
Maintaining this website is a
labor of love. It takes a
lot of time, effort, and
personal expense.

We appreciate all donations immensely! 100% of all
contributions go directly to
operating WarbirdAlley.com.
---

New Release!


Warbird Factory:
North American Aviation
in WWII
---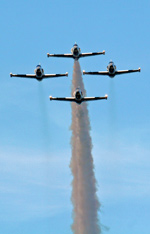 An extensive reference source about airworthy,
privately-owned, ex-military aircraft.
---


We're pleased to feature the work of noted
aviation photographer Max Haynes. Visit his site for more!



---


Submissions Wanted!
---
SITE MENU:
Aircraft | Maintenance / Restoration | Organizations
Museums | Airshows | Fly A Warbird
Bookstore | Flight Simulator Store | Miscellaneous Links | Articles
Submit Items or Use Our Material | Warbird Shirts and Hats
Contributors and Staff | What's a Warbird?
Threat Watch Page | Pilot Resources
Warbird News
(News updated 4 November 2021)
---
Warbird Alley

™ is a registered trademark. All content Copyright 2021 by The Doublestar Group, except where noted. This site is not directly affiliated with any major aviation or warbird organization. We are supported by affiliate partnerships with a select group of aviation retailers and related businesses, but mostly through the generous donations of our readers! We never collect, sell or distribute e-mail addresses or personal information. This site does not use "cookies," but it is possible that our advertisers may use them without our knowledge. Some photos occasionally come to us with no attribution attached, but we are committed to giving proper credit to those who deserve it. If you believe you deserve credit for any photographs on this site, we urge you to inform us. Comments and submissions are always welcome. This site is for your enjoyment and education about warbirds, so enjoy and learn!