Fifteen years.
Millions of visitors.
One focus:
Warbirds.

---
Site Menu:
Aircraft
Maintenance/Restoration
Organizations
Museums
Airshows
News (Updated 5 May 2013)
Fly A Warbird
Bookstore
Articles
Pilot Resources
Miscellaneous Links
Submit Items
or Use Our Material
About Us
Warbird T-Shirts and Hats
Threat Watch Page
What's A Warbird?
---
Visit our Affiliates:

---
---
Like this site?
---
---
DC-3: A Legend in Her Time: A 75th Anniversary Photographic Tribute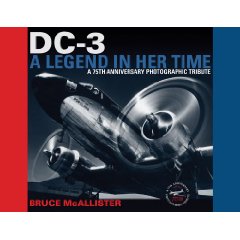 Author: Bruce McAllister
Published: April 2010
Publisher: Roundup Press
Hardcover, 256 pages
A comprehensive photographic essay covering the entire history of the DC-3.
---

"Living Warbirds:
Steel Warriors" DVD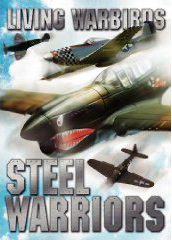 DVD running time: 103 minutes.
Color, NTSC format.
This DVD puts you in the front row, where you'll see, hear and feel the raw power of the magnificent warbirds of WWII. Over two dozen aircraft types are presented. There's no narration or music to spoil the enjoyment -- just the sights and sounds of airplanes!
---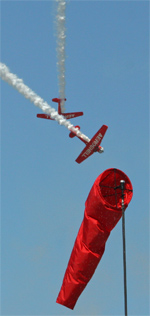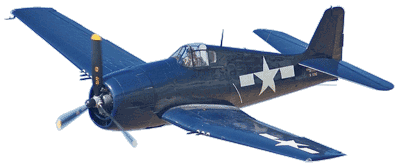 An online reference source for information about airworthy,
privately-owned, ex-military aircraft.
Whether you're a warbird owner, pilot, mechanic, restorer, crewmember, collector or history enthusiast, there's something here for you. We're constantly updating the information on this site, so check back often for new material.

---
Current Notes:

Safety: The Federal Aviation Administration (FAA) has recently issued several a Special Airworthiness Informational Bulletin (SAIB) and a Safety Alerts For Operators (SAFO) regarding two popular warbirds. Please be sure you're familiar with them:

Aero Vodochody L-39 Albatros: SAFO 13003, dated 18 January 2013. Possibility of Canopy Separation. [PDF document]

Aerostar/Yakovlev Yak-52: SAIB CE-13-17, dated 28 February 2013. Elevator Control Concerns.


U.S. Jet Count: The Classic Jet Aircraft Association (CJAA) has reported that, according to a newly-updated FAA database, there are approximately 1,274 N-registered classic jet aircraft in the USA. The data base is available as an Excel spreadsheet on their website. [Editor's note: We have noted that at least four of the aircraft on the spreadsheet are not actually jet warbirds, but amateur-built piston aircraft with similar designations as certain jets. FYI.]


Warbird First Aid Kits: Update your warbird with an authentic-looking canvas first aid kit, created to match the originals. These are the same kits used on numerous vintage aircraft, including the T-28, C-45 and others. They even come with mounting hardware. Check out Taildragger Aviation for more information.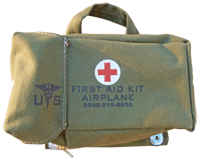 Recent Media Stories of Interest:

Fairbanks, Alaska: Michigan Pilots Hope to Recover Crashed B-25


Opa Locka, Florida: 'Pieces of History' Still Soar at Opa Locka Airport
Burma: No Buried Spitfires Found Yet
Georgetown, SC: Love of Flying and Planes Draws Generations of Pilots Together
Burma: Buried Spitfires Set to Take to the Skies
Paris, France: Historic Gypsy Moth Flown by Robert Redford to be Auctioned
Castlegar, British Columbia: Police Investigate Crash Scene From 1953
Pepin, Wisconsin: Dying Veteran Pilot Granted Final Wish
Sardinia, Italy: Team Finds Wreck of Giant German Airplane from WWII
Port Alberni, BC: After 50 Years Battling Blazes, Waterbomber Retires to US
Fairbanks, Alaska: On-Site Probe of Vintage Military Plane Crash on Glacier Ends
Atco, New Jersey: Where Old Airplanes Go To Die, Or Live Again as Props
Jupiter, Florida: Navy Exploring Lost WWII Wreckage
Middlefield, Ohio: Large collection of vintage aircraft to be auctioned on 19 May
Egypt: Curtiss P-40 discovered after 70 years in the desert (See March News page)
Burma: Spitfires Buried in Burma During War to be Returned to UK

See our News page for many more warbird-related news items.


Cockpit Photos: We're adding a new feature to many of the aircraft profiles pages -- cockpit photos! The small thumbnails will enlarge to full-size when you click on them. See the T-34 Page for an example.

If you have large, well-lit photos of warbird cockpits, we want your submissions! Send your cockpit photos to editor (at) warbirdalley.com, and we'll get them posted. Thanks!

(Latest addition: C-45)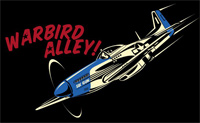 T-Shirts: Check out our Warbird Alley T-shirts, in six awesome designs: P-51 Mustang, P-40 Warhawk, P-38 Lightning, F4U Corsair, B-25 Mitchell, and Spitfire!

Outside of the AirVenture event in Oshkosh, they're available exclusively on this website. (Go to the Products page.)


Pilot Resources page: Our Pilot Resources page features useful forms, flight planning resources, and other online information specifically for U.S.-based pilots and aircraft owners/operators. We hope you'll bookmark it in your browser, and use it often!


Warbird Video of the Week

Warbird Formation Flight Over USS Iowa and Long Beach
P-51, P-40 and B-25 from the Planes of Fame Museum fly out of
Chino on a beautiful day.


Note: If you cannot see the video above, it may be because Flash video (or video streaming in general) is not installed or enabled on your computer, or because your administrator has blocked certain video capabilities on your system.



We're pleased to feature the work of noted
aviation photographer Max Haynes. Visit his site for more!



---


Submissions Wanted!
Publish Your Pilot Report!
What's it like to fly your airplane? We're looking for first-person pilot reports (500+ words) and photos about warbirds you've flown as a pilot. If you'd like to submit such a report, we'd be glad to add it to our site so others can enjoy it.

Publish Your Photos!
We encourage you to submit high-quality warbird photos that you'd like to share with others. Please please see our Submissions page.

---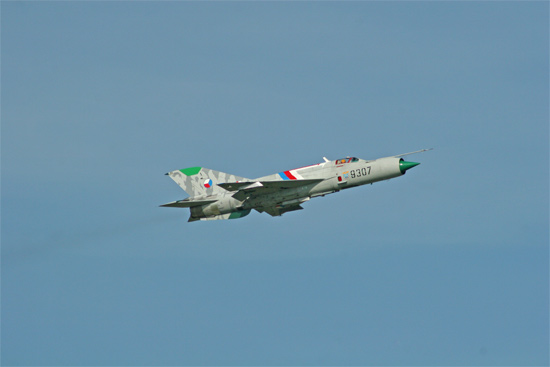 Will Ward's MiG-21 blasts the sky asunder.
(Photo by Buck Wyndham)
---
SITE MENU:
Aircraft | Maintenance / Restoration | Organizations
Museums | Airshows | Fly A Warbird
Bookstore | Miscellaneous Links | Articles
Submit Items or Use Our Material | Warbird Shirts and Hats
Contributors and Staff | What's a Warbird?
Threat Watch Page | Pilot Resources
Warbird News
(News updated 5 May 2013)
---
Warbird Alley

™ is a registered trademark. All content Copyright 2013 by The Doublestar Group, except where noted. This site is not directly affiliated with any major aviation or warbird organization. We are supported by affiliate partnerships with a select group of aviation retailers and related businesses, and through the generous donations of our visitors. We do not collect, sell or distribute e-mail addresses or personal information. This site does not use "cookies," but it is possible that our advertisers may use them. Some photos occasionally come to us with no attribution attached, but we are committed to giving proper credit to those who deserve it. If you believe you deserve credit for any photographs on this site, we urge you to inform us. Comments and submissions are always welcome. This site is for your enjoyment and education about warbirds, so enjoy and learn!