Antonov An-2 "Colt"
(Variants/Other Names: Fongshu 2 ("Harvester 2"); Harbin Y-5
---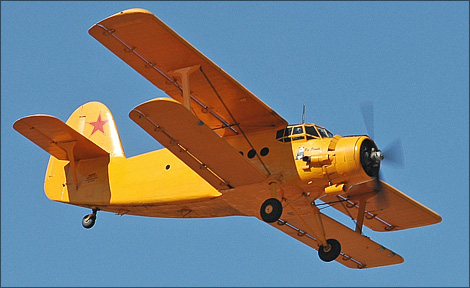 An-2 Colt N82AN, known as "Big Panda," is operated by the Commemorative Air Force.
(Photo courtesy of Hax Haynes - MaxAir2Air.com.)
History: The An-2 Colt has been used as a paratroop transport, glider tug, navigation trainer, utility transport and light bomber. Despite being a versatile and adaptable machine, the large, fabric-covered An-2 biplane remains firmly rooted in much earlier days of aviation.

The An-2 prototype was first flown on August 31, 1947, and the aircraft is still in production, although the Antonov Bureau has not produced any since 1960. The An-2s designer, Oleg Antonov, had been an aircraft designer during the Second World War. He then formed his own bureau with the intention of creating an aircraft capable of almost any task. He succeeded. Originally designed for the Ministry of Agriculture and Forestry in the former Soviet Union, the aircraft was soon adopted by the Soviet Air Force and built for its client states. It is ideally suited to less developed countries because it requires little maintenance and is easy to fly.
The An-2's admittedly-antiquated design gives it extremely short take-off and landing (STOL) capabilities. This is partly achieved not only by the high-lift double wings, but by the use of the drooping ailerons which can be lowered 20 degrees to compliment the flaps. The wings are covered in fabric aft of the front spar and the tailplane is also covered with fabric, making field repairs easy. It has a crew of two in a heated crew compartment and a single bay running the length of the aircraft.
More than 12,000 Colts have been produced at the PZL Mielec plant in Poland since it signed a licensing deal in 1960. The Antonov plant in Kiev produced 5,000 before it stopped production in 1965. The design was also licensed to China, where 1,500 were completed as the Harbin Y-5 transport airplane between 1957 and 1970, and more were produced as the Fongshu 2.

The An-2 is still in service with over 30 air forces and has been used by Aeroflot and other eastern airlines. With the collapse of the USSR over a decade ago, a small number of An-2s have begun to appear on the civilian rosters in Europe and the United States, although the type is difficult to register in the United States due to regulatory issues.
Nicknames: Annushka ("Little Annie"); Big Ant; Colt (NATO code name; Kukuruznick ("Corn-Eater")
Specifications (An-2P):
Engine: One 1,000-hp Shvetsov ASh-62IR radial piston engine
Weight: Empty 7605 lbs., Max Takeoff 12,125 lbs.
Wing Span: 59ft. 7.75in.(Upper), 46ft. 8.5in. (Lower).
Length: 41ft. 9.5in.
Height: 13ft. 1.5in.
Performance:
Maximum Speed at 5,700 ft: 160 mph
Economy Cruising Speed: 115 mph
Ceiling: 14,425 ft.
Range: 560 miles with 1,100-pound payload
Armament: None
Number Built: 20,000+
Number Still Airworthy: Unknown, but believed to be at least 2,000. Approximately 5 are flown as warbirds in the USA and Europe.
Links:
"Antonov An-2 Owners and Friends" site
"Big Bubbinsky" An-2
Bosch Aerospace An-2 Research Page
Kiwi Aircraft Images' An-2 Page
Orlaivis -- Lithuanian company specializing in repair and service of An-2s.


Antonov An-2: Annushka, Maid of All Work
(Red Star Vol. 15)





[Back to Warbird Alley's Main Page]
---
All text and photos Copyright 2016 The Doublestar Group, unless otherwise noted.
You may use this page for your own, non-commercial reference purposes only.
---