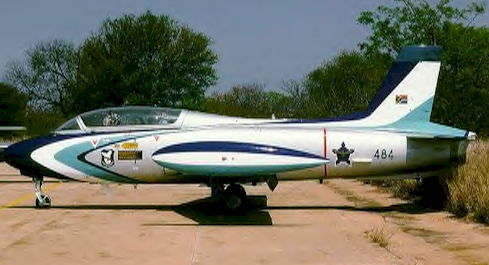 An Aermacchi MB-326 Impala in the colors of the South African Air Force.
(Photo source unknown. Please contact us if you deserve credit.)
History: The MB-326 was designed by Dr. Ing Ermanno Bazzochi and became the most successful aircraft built by the Italian Aermacchi company. The first two prototypes of this tandem two-seat jet trainer were flown in December 1957. The Italian air force soon acquired 15 pre-production aircraft, and they were so pleased with its performance, they purchased another 85. These trainers were also supplied to countries in Africa and South America, their sales being fueled by a growing need to replace older, propeller driven trainers. To further expand its customer base, Aermacchi soon produced the armed, two seat MB-326B and -326F. A stable and extremely maneuverable aircraft, the MB-326 was well suited for the close-support role. These variants were usually flown with the second seat empty, and could also be used for weapons training.

On August 22, 1970, Aermacchi flew its new, single seat prototype ground attack fighter. Given the designation MB-326K, it had a powerful Rolls-Royce turbojet and a pair of electrically-operated cannons. Ammunition storage for the guns was located in the space left empty by the removal of the second seat. New electronics were added, and the airframe was strengthened to accommodate more armament on the hard points under the wings. In 1974, the MB-326K got its first new operators when the Dubai Police Air Wing ordered three for counter-insurgency work. A year later, in 1975, Atlas in South Africa began building the MB-326K under license as the Impala II. These saw action over Angola, and the next year both Ghana and Tunisia supplemented their armed two-seat MB-326s with the new -326K.

The final MB-326 was the EMB 326GB, completed by Embraer of Brazil in 1983. The Brazilian Air Force designated the aircraft the AT-26 Xavante ("Shavante").
The MB-326 has since been replaced by newer training aircraft, and some the surplus airframes have been sold to private operators, most ending up in the United States. The largest operator of the type in the U.S. has been the National Test Pilot School in Mojave, California.
Nicknames: Imp
Specifications (MB-326K):
Engine: One 4,000-pound thrust Rolls-Royce Viper 632-43 turbojet
Weight: Empty 6,885 lbs., Max Takeoff 13,000 lbs.
Wing Span: 35ft. 7in. including tip tanks
Length: 35ft. 0.25in.
Height: 12ft. 2in.
Performance:
Maximum Speed at 5,000 feet, clean configuration: 553 mph
Ceiling: 45,000 ft.
Range: 1,323 miles with ferry tanks
Armament:
Two 30mm DEFA 553 cannon in lower fuselage
Up to 4,000 pounds of underwing stores, including bombs, missiles, rockets, mini-gun pods and camera pods.
Number Built: 761
Number Still Airworthy: At least 10 in private ownership.
Links:
CNAPG MB-326 Page
MB-326 Three-View Drawing | Another Three-View
National Test Pilot School, Mojave, CA: Main Page
RAAF Museum MB-326 Page

MB 326 Impala
1:48 Plastic Model:


[Back to Warbird Alley's Main Page]
---
All text and photos Copyright 2016 The Doublestar Group, unless otherwise noted.
You may use this page for your own, non-commercial reference purposes only.
---