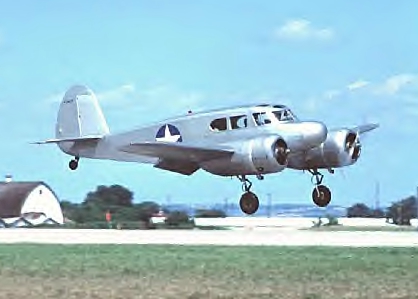 N65809, a 1943 UC-78 painted to represent an AT-8, and owned at the time by Ron Huckins.
(Photo source unknown. Please contact us if you deserve credit.)
History: First flown in 1939, the Cessna T-50 was that company's bid for a successful five-seat commercial transport typical of many other aircraft built in the late thirties. While the wings and tail unit were wood, the fuselage was a welded steel-tube design with fabric over wooden skinning. A low-wing cantilever monoplane, it featured a unique retractable tailwheel and wing trailing-edge flaps, both electrically actuated.
The need for a training plane to help pilots convert from single to twin-engine aircraft enabled Cessna to sell 550 aircraft for this purpose to Canada (Under the designation Crane), followed by 33 T-50's to the U.S. Army Air Corps under the designation AT-8. In 1942, the USAAF felt the T-50s would work well as light personnel transports and for liaison/communication. 1,287 AT-17 Bobcats (later designated as UC-78s) were delivered and served in all theaters of war. Not to be outdone, the U.S. Navy in 1942-43 purchased 67 planes, which they designated JRC-1s, to ferry pilots between delivery ports and transport navy pilots to new duty stations. The T-50 served in these various roles for several years after the war. Over two dozen Bobcats still roam the skies of the USA, Canada, and Australia/New Zealand.
Nicknames: The Bamboo Bomber; Useless-78, The Wichita Wobbler; Brasshat; Double-Breasted Cub; Boxkite; Rhapsody in Glue; San Joaquin Beaufighter
Specifications (UC-78):
Engines: Two 245-hp Jacobs R-755-9 radial piston engines
Weight: Empty 3,500 lbs., Max Takeoff 5,700 lbs.
Wing Span: 41ft. 11in.
Length: 32ft. 9in.
Height: 9ft. 11in.
Performance:
Maximum Speed: 195 mph
Cruising Speed: 175 mph
Ceiling: 22,000 ft.
Range: 750 miles
Armament: None
Number Built: ~5400 of all models
Number Still Airworthy: ~25
Links:
AeroWeb C-78 Reference Page
Bobcat Parts
Collings Foundation: UC-78 Bobcat page
National Museum of Naval Aviation: Bamboo Bomber page
Rag Wings and Radials -- Operators of a UC-78
USAF Museum UC-78B Bobcat

Cessna Warbirds, The War Years (1941-45): The T-50 Bobcat
and the Cessnas Impressed into Military Service
By Walt Shiel
This book details the genesis and evolution of the Cessna T-50 Bobcat from its incarnation as a civilian aircraft throughout its wartime military history. Personal recollections from pilots who flew the aircraft during WW II, a plethora of photographs (some in color), diagrams extracted from the pilot's flight manual, and a collection of Cessna-related wartime ads provide a unique depth of material. It also chronicles the pre-war, single-engine Cessnas that were impressed into military service. The book includes an illustrated overview of Clyde Cessna the man, the aircraft he designed, and the companies he created.


[Back to Warbird Alley's Main Page]
---
All text and photos Copyright 2016 The Doublestar Group, unless otherwise noted.
You may use this page for your own, non-commercial reference purposes only.
---