Hispano HA-200 Saeta
(Variants/Other Names: See History below)
---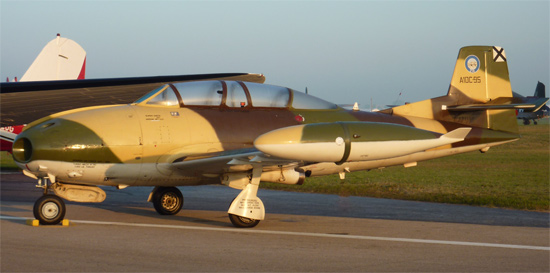 Hispano HA-200 N3110P at Oshkosh 2010.
(Photo by Buck Wyndham)
History: The twin-jet, straight wing Saeta ("Arrow") was built by Hispano under the direct guidance of famed designer Willy Messerschmitt. First flown on 12 August 1955, it was built as both a basic trainer (HA-200A with two pilots in tandem) and as a light attack aircraft (HA-220, pilot only, equipped with two underwing weapons pylons and two 7.62mm machine-guns). Thirty "A"-models were delivered to the Spanish air force, which was anxious to end reliance on foreign imports (principally the T-6 Texan) in the early 1960's. The Spanish Air Force designated the trainer the E.14 and the attack version the C.10.
In 1965, Hispano installed the more powerful Marbore VI engine and designated this variant the HA-200D. It was so successful that they added armor, doubled the number of underbody hard points and fitted Browning M3 machine guns, resulting in a specialized version called the HA-200E Super Saeta. This plane saw active service in the Sahara in 1974-75. An export version (HA-200B) was sold to Egypt on license.
Though the last Saetas were retired from Spanish service in the mid-1980s, several have been imported to the USA, and one or two are active on the airshow circuit.
Nicknames: "Casa" (Common informal name in the warbird community); Al Kahira ("The Cairo," Egyptian name for the license-built HA-200B.)
Specifications (HA-200E Super Saeta):
Engines: Two 1,058-pound thrust Turbomeca Marbore VI turbojets.
Weight: Empty 4,453 lbs., Max Takeoff 7,937 lbs.
Wing Span: 34ft., 1.75 in.
Length: 29ft. 5in.
Height: 9ft. 4.25in.
Performance:
Maximum Speed: 430 mph at 23,000 ft.
Ceiling: 42,650 ft.
Range: 930 miles
Armament: Underwing hard-points for a variety of weapons; 20-mm cannon in nose.
Number Built: ~210.
Number Still Airworthy: Approximately 15.
Links:
Adventure Air Service (Saeta airshow act)
Virtual Aviation Museum -- Saeta Page
"77 and Still Jetting Through the Sky" -- Eagle Tribune Article, Massachusetts, USA

Hispano Saeta
Computer Mousepad
from Amazon.com:


[Back to Warbird Alley's Main Page]
---
All text and photos Copyright 2016 The Doublestar Group, unless otherwise noted.
You may use this page for your own, non-commercial reference purposes only.
---