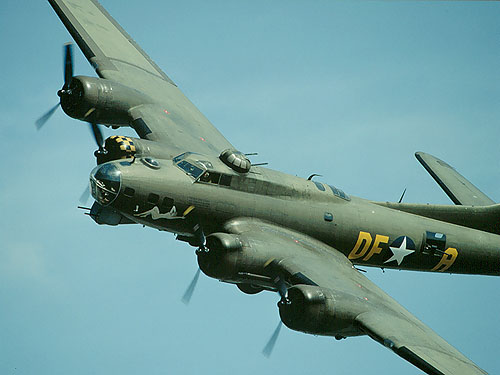 Photo by Ty Brown
History: The B-17, arguably World War II's most famous heavy bomber, first flew on July 28, 1935, before a crowd of reporters eager to see Boeing's new bomber take wing. It was dubbed the "Flying Fortress" by the members of the press in attendance because of its (at least for the time) heavy defensive armament. The prototype crashed in October, but because of its impressive speed and handling the US Army Air Corps (USAAC) decided to continue testing anyway. They ordered 13 YB-17s for further evaluation, a decision that would prove momentous in years to come.

The YB-17 had five machine guns, room for 4,800 pounds of bombs and a crew of nine. It had electrically retractable landing gear. After testing the YB-17, an improved prototype, the Y1B-17, was built with Wright Cyclone radial engines. Twelve were delivered to the USAAC's 2nd Bombardment Group for trials. One of these was soon equipped with new Moss/General Electric turbochargers that became standard on all future Flying Fortresses. The first production order was for 39 B-17Bs with turbo-charged engines, and as soon as these were under production another order for the B-17C was placed, with seven machine guns instead of the original five.
The RAF received their first B-17Cs in 1941, and were soon conducting daylight raids over Germany. The defensive armament soon proved inadequate, and the B-17's altitude was little defense against the German fighters. Orders for the B-17D were soon placed with self-sealing fuel tanks and more armor because of lessons learned in bombing missions over Europe. The B-17E and B-17F soon followed with larger tail. The B-17F was the first to serve with the USAAF 8th Air Force. After suffering staggering losses in late 1943, analysis proved head-on attacks by enemy fighters were a distinct problem. The final major version, the B-17G, added a chin turret with dual machineguns. This gave the B-17 a defensive armament of 13 guns.
After the war, several dozen B-17s lived on as fire-bombers and aerial surveyors until the last one was retired in the 1970s. Today, a few B-17s have been restored to their wartime splendor. Eleven are currently flying in the United States, one in the UK and another one in France.

Nicknames: Fort; The Flying Coffin (Nazi propaganda nickname)
Specifications (B-17G):
Engines: Four 1,200-hp Wright R-1820-97 Cyclone turbocharged radial piston engines
Weight: Empty 36,135 lbs., Max Takeoff 65,500 lbs.
Wing Span: 103ft. 9in.
Length: 74ft. 4in.
Height: 19ft. 1in.
Performance:
Maximum Speed at 25,000 ft: 287 mph
Cruising Speed: 182 mph
Ceiling: 35,800 ft.
Range: 2,000 miles with 6,000 lb. bomb load
Armament:
13 12.7-mm (0.5-inch) machine guns
Up to 17,600 pounds of bombs
Number Built: ~12, 800+
Number Still Airworthy: 13

[ B-17 Flying Fortress photos ]
Links:
379th Bomb Group
Airworthy Flying Forts -- John Weeks' page about B-17 survivors.
Arizona Wing, CAF Museum (Sentimental Journey), Mesa Arizona, USA.
B-17 News
B-17 Survivor List
The Bloody Hundredth -- Official Site of the 100th Bomb Group (Heavy).
Civil B-17s
Collings Foundation B-17 "Nine-O-Nine"
"Desert Rat" -- B-17E under restoration in Illinois, USA.
Flight Journal Magazine B-17 Profile Page
The Liberty Foundation -- Restorers and operators of "Liberty Belle" B-17G.
MaxAir2Air.com B-17 Profile -- Detail photos of B-17 "Sentimental Journey."
"Memphis Belle" 360-degree virtual reality cockpit photo
Queen of the Skies -- (In German)
"Sally-B" (The B-17 Charitable Trust, UK)
"Texas Raiders" B-17, CAF Gulf Coast Wing
Vintage Flying Museum ("Chuckie"), Ft. Worth, Texas, USA
B-17 Flying Fortress books from Amazon.com:


[ Click for more great books about the B-17! ]


[Back to Warbird Alley's Main Page]
---
All text and photos Copyright 2015 The Doublestar Group, unless otherwise noted.
You may use this page for your own, non-commercial reference purposes only.
---