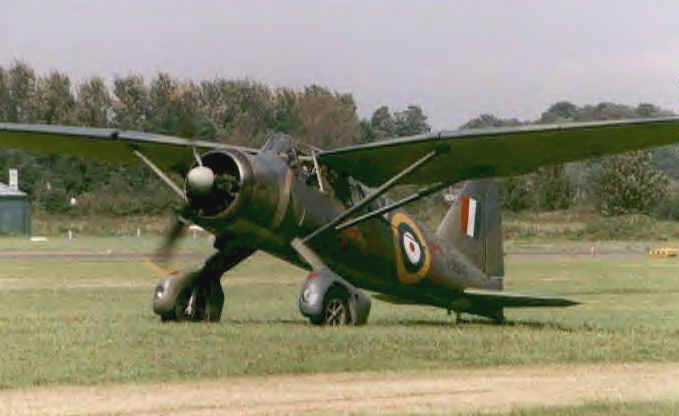 (Photo source unknown. Please contact us if you deserve credit.)
History: The Lysander was the first British airplane stationed in France during World War Two but was soon found to be vulnerable because of its relatively slow speed. Withdrawn from frontline service, this two-seat, high-winged monoplane would soon become famous for its nocturnal flights into occupied Europe, dropping supplies and agents behind enemy lines.

The Lysander was built by Westland as an army co-operation aircraft at the request of the RAF. The first prototype was flown on June 15, 1936, and a contract for 144 more was signed. The Lysander began its service with No. 16 squadron of the RAF in June of 1938. The Lysander also saw service with France, Turkey and Ireland. Apart from dropping spies and equipment into occupied France, the Lysander also served as a target tug, and performed invaluable service during air-sea rescue operations over the English Channel.

The Lysander was also built under license in Canada, where 225 were constructed by the end of the war. There are approximately 20 surviving Lysanders today, all but one having served with the Royal Canadian Air Force (RCAF).
Nicknames: Lizzie; Flying Carrot
Specifications (Lysander III):
Engine: One 870-hp Bristol Mercury XX nine-cylinder radial engine
Weight: Empty 4,365 lbs., Max Takeoff 6,318 lbs.
Wing Span: 50ft. 0in.
Length: 30ft. 6in.
Height: 14ft. 6in.
Performance:
Maximum Speed: 212 mph
Ceiling: 21,500 ft.
Range: 600 miles
Armament: None
Number Built: ~1,650
Number Still Airworthy: Two
Links:
Canadian Museum of Flight -- Lysander Page
Canadian Warplane Heritage Museum's Lysander page
Fleet Air Arm Archive -- Preserved Lysanders
National Air and Space Museum's Lysander
RAF Museum -- Lysander Page
USAF Museum Lysander Page
First Flight of the Canadian Warplane Heritage's
Lysander Mk. III on 9 June 2009:



[Back to Warbird Alley's Main Page]
---
All text and photos Copyright 2016 The Doublestar Group, unless otherwise noted.
You may use this page for your own, non-commercial reference purposes only.
---