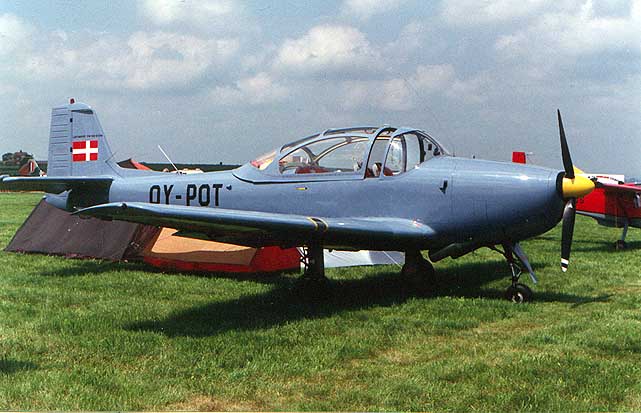 (Photo source unknown. Please contact us if you deserve credit.)
History: Developed as a four-seat, tricycle-gear version of Piaggio's two-seat tailwheel P.148 trainer in service with the Italian Air Force, the future of the P.149 as a civil trainer and touring airplane looked somewhat bleak until the Luftwaffe purchased 72 of them in 1956 for use as their standard basic trainer. Following a license agreement with Focke-Wulf, 190 more P.149s were then built by the well-known German manufacturer. Most of these went to the Luftwaffe, but a few ended up in civilian ownership, and five were purchased by Swissair for ab initio pilot training.
While the last German planes were retired in the early 1980s, a number of surplus craft were sold to Nigeria, Tanzania, and Uganda as part of a German military assistance program. A few P.149s are still flying in private hands, mostly in Europe.
Nicknames: Piggi, Pippi (Affectionate Luftwaffe nickname.)
Specifications:
Engine: One 270-hp Lycoming GO-480-B1A6 flat-six piston engine.
Weight: Empty 2,557 lbs., Max Takeoff 3,704 lbs.
Wing Span: 36ft. 6in.
Length: 28ft. 9.5in.
Height: 9ft. 6in.
Performance:
Maximum Speed: 192 mph at sea level.
Ceiling: 19,850 ft.
Range: 680 miles.
Armament: None.
Number Built: 262.
Number Still Airworthy: ~20.
Links:
Classic Jet Aircraft Parts' Piaggio P149 Page -- Lots of good air-to-air-photos of the Pippi.
Berni's Old Airplane Company, Inc. -- Good P.149 information.
Seagull Formation -- Dutch P.149 formation team.
Virtual Aviation Museum: P.149 Page




[Back to Warbird Alley's Main Page]
---
All text and photos Copyright 2016, The Doublestar Group, unless otherwise noted.
You may use this page for your own, non-commercial reference purposes only.
---