Fairchild C-119 "Jet-Pack" version, N5216R, operated by
Hawkins and Powers Aviation, Greybull, Wyoming, USA.
(Photo source unknown. Please contact us if you deserve credit.)
History: The C-119 was a redesign of an earlier Fairchild transport design, the C-82 Packet, which was built for the USAAF between 1945 and 1948. While the Packet provided valuable service to the Air Force's Tactical Air Command and Military Air Transport Service for nearly nine years, its design had some limitations, and these were addressed in the new C-119 transport.
First, the cockpit was moved into the nose of the airplane from its previous location over the cargo compartment. This resulted in much more usable cargo space and larger loads. The C-119 also featured more powerful engines (Pratt & Whitney R-4360s), a widened fuselage, and a strengthened structure. The first C-119 prototype (actually called the XC-82B) flew in 1947, and deliveries began in December 1949 as the C-119B.
The C-119B saw extensive action in Korea and Vietnam, and many were provided to other nations as part of the Military Assistance Program, including Belgium, Brazil, Ethiopia, India, Italy, Nationalist China, and South Vietnam. The type was also used by the Royal Canadian Air Force, and by the US Marine Corps under the designations R4Q-1 and R4Q-2.
It was in Vietnam that the lowly troop-carrying C-119 took on various tactical, offensive roles which its designers never could have foreseen. In its AC-119G "Shadow" variant, it was fitted with four six-barrel 7.62-mm mini-guns, armor plating, flare-launchers, and night-capable infrared equipment. Now a potent weapon, the C-119 was made even more so by the introduction of the AC-119K "Stinger," which featured the addition of two 20-mm cannon, improved avionics, and two underwing-mounted J-85-GE-17 turbojet engines, adding nearly 6,000 lbs. of thrust.
Other major variants included the EC-119J, used for satellite tracking; and the YC-119H Skyvan, with larger wings and tail. Another variant still seen today is the "Jet-Pack" version, which incorporates a 3,400-lb thrust Westinghouse J34 turbojet engine in a nacelle above the fuselage. In a reversal of the normal course of events when airplanes are improved and modified, most variants after the C-119B incorporated lower-powered Wright R-3350 Cyclone engines.
After its retirement from active duty, many C-119s soldiered on in the US Air National Guard until the mid-1970s, and until recently they were still in use by the Taiwanese Air Force. In recent years, several civilian-operated C-119s have found work as firebombers in the northwest United States, and a few have even begun making appearances at warbird airshows.
Nicknames: Crowd Killer; Dollar-19; Shadow (AC-119G gunship); Stinger (AC-119K gunship).
Specifications (C-119G):
Engines: Two 3,500-hp Wright R-3350-85 Cyclone radial piston engines.
Weight: Empty 39,982 lbs., Max Takeoff 74,000 lbs.
Wing Span: 109ft. 3in.
Length: 86ft. 6in.
Height: 26ft. 4in.
Performance:
Maximum Speed: 296 mph.
Cruising Speed: 200 mph.
Range: 2,280 miles
Armament: None (For gunship armament see History above.)
Number Built: Approximately 1184.
Number Still Airworthy: ~3.
Links:
12th Troop Carrier (T.C.) Squadron -- Harry Dunn's history of the C-119.
FlyingBoxcar.com -- A tribute to the last C-119s flying in Alaska.
OldProps C-119 Page -- A tribute and photo essay on the C-119, including a list of surviving C-119s.
Ruud Leeuw's C-119 History pages -- An extensive collection of photos, histories and stories.

C-119 Flying Boxcar book from Amazon.com: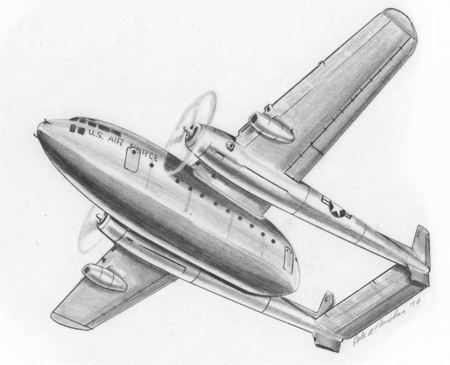 Fairchild AC-119K Stinger
By Peter Michas


[Back to Warbird Alley's Main Page]
---
All text and photos Copyright 2016 The Doublestar Group, unless otherwise noted.
You may use this page for your own, non-commercial reference purposes only.
---