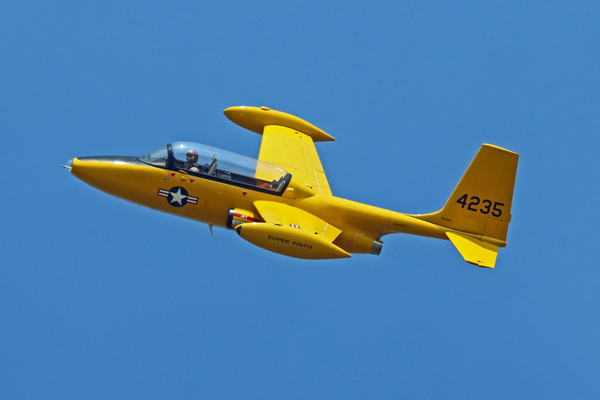 Temco TT-1 Super Pinto N13PJ, operated by the World Heritage Air Museum.
Photo by Buck Wyndham

History: The United States Air Force issued a requirement in 1952 for a jet-powered primary trainer, and Texas Engineering and Manufacturing Company (Temco) responded with a design it labeled the Model 51 "Pinto." Powered by a Continental J69-T-9 turbojet, the Pinto was a tricycle-geared mid-wing cantilever monoplane, with tandem seating for the instructor and student in an enclosed cockpit.

First flown in March of 1956, the prototype was tested by the U. S. Navy, which subsequently ordered 14 of the aircraft under the designation TT-1, to study the feasibility of using jet aircraft for primary training. No additional TT-1 Pinto aircraft were manufactured.

With the single Continental engine, the aircraft's performance capabilities included a maximum airspeed of 345 mph, a service ceiling of 32,200 ft. and a sea-level endurance of 1 hour, 30 minutes.

Also under development in response to the 1952 Air Force requirement was the Cessna T-37, a primary jet trainer powered by two Continental J69-T-9 turbojets, instead of the Pinto's one. That aircraft was accepted by the Air Force, with two prototypes being ordered, the first of which flew in October of 1954.

Thus, in a situation where Temco appears to have entered the competition with too little, too late, the TT-1 Pinto had a very limited life.

Of the original Pintos, at least seven have passed on to civilian hands and at least four have been modified into Super Pintos by the replacement of the original engine with a 2,850-pound thrust J-85/CJ610 engine, and an increase in fuel capacity to 196 US gallons. This extraordinary thrust increase resulted in a cruise speed of 400 mph, a top speed of 550 mph, a rate of climb of 10,000 feet per minute, and a minimum (lightweight) takeoff roll of only 500 feet, making it one of the world's ultimate aerial sports-cars.

Nicknames: Tinker Toy

Specifications:
Engine: One 930-pound thrust Continental J69-T-9 turbojet
Max Takeoff Weight: 4,325 lbs.
Wing Span: 30ft. 0in.
Length: 30ft. 9.25in.
Height: 10ft. 10.75in.
Performance:
Maximum Speed: 345 mph
Ceiling: 32,200 ft.
Range: 450 miles
Armament: None

Number Built: 14

Number Still Airworthy: Seven (at least 4 of which are Super Pintos)

[ Flight Report by Budd Davisson ]
Cockpit Photo (Super Pinto N4229):



(Click for larger)

Links:
None (Send us some!)


[Back to Warbird Alley's Main Page]
---
Corrections, additions or pilot reports to:
editor@warbirdalley.com

All text and photos Copyright 2011 The Doublestar Group, unless otherwise noted.
You may use this page for your own, non-commercial reference purposes only.
---