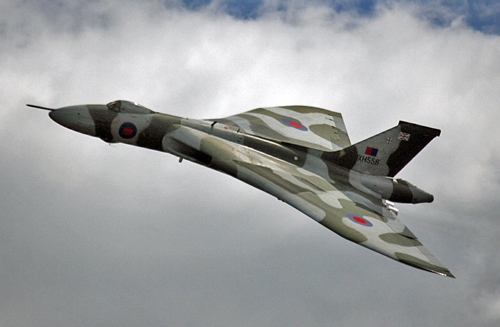 Vulcan XH558, the last airworthy Vulcan.
(Photo source unknown. Please contact us if you deserve credit.)
History: A post-WWII analysis of Allied strategic bombing affirmed the success of such tactics during the war. The new importance of nuclear weapons made it all the more imperative that the world's nuclear powers have long-range delivery capabilities. England's Royal Air Force (RAF) issued a requirement for a new aircraft design which could be based anywhere in the world, be able to strike targets up to 1,700 miles away, and deliver a heavy bomb load from high speed and high altitude. One of the three finalists for the job was the Avro Vulcan, first flown on 3 August 1952. The Vulcan's main distinctive physical characteristic, its large delta-wing shape, was a result of the need for structural integrity and a large payload capacity. To prove the as-yet untested design, the Avro company built a series of one-third scale aircraft, designated as Avro 707s.
The first production model of the Vulcan, the B.Mk 1, flew in early 1955, and after a few airframe and wing design changes, entered service. While the first prototype Vulcans were powered by four 6,500-pound thrust Rolls-Royce Avon RA.3 engines, a series of engine upgrades throughout its lifetime resulted in a final configuration of four 20,000-pound thrust Rolls-Royce Olympus 301s, giving the Vulcan significant performance improvements over earlier marks.
Numerous other design improvements were gradually incorporated as well, as follows: The B.Mk 1A variant incorporated a modified tailcone housing an Electronic Counter-Measures (ECM) system. The B.Mk 2 had more powerful engines than the B.Mk 1, a much-modified and larger wing, elevons for pitch and roll control (instead of separate elevators and ailerons), an auxiliary power unit (APU), in-flight refueling capability, and modified weapons-launch capability. In the mid 1960s the B.Mk 2 was adapted as a long-range, low-level conventional bomber. Finally, the SR.Mk 2 strategic reconnaissance variant appeared in 1973.
The Vulcan remained on active duty with the RAF into the 1980s. Few retired aircraft types retain the mystique enjoyed by the handful of remaining examples of the Vulcan which have found their way into museums. For almost a decade after its retirement, at least one Vulcan was flown at air displays throughout Europe and the British Isles, but financial considerations resulted in all Vulcans being grounded by the mid 1990s. However, in 2007, thanks to the work of the Vulcan to the Sky Trust and The Vulcan Operating Company (TVOC), one of these magnificent aircraft was restored to airworthy condition, and flew on the airshow circuit in the UK for eight years until funding issues grounded it in October 2015.
Nicknames: Iron Overcast; The Tin Triangle
Specifications (B.Mk 2):
Engines: Four 20,000-pound thrust Rolls-Royce Olympus 301 turbojets
Max Takeoff Weight: ~250,000 lbs.
Wing Span: 111ft. 0in.
Length: 99ft. 11in.
Height: 27ft. 2in.
Performance:
Maximum Speed: 645 mph
Ceiling: 65,000 ft.
Range: 4,600 miles with normal bomb-load
Armament: Up to 21,000 pounds of bombs, carried internally
Number Built: 134
Number Still Airworthy: One (Now taxi-capable only, as of October 2015).
Links:
Avro Vulcan Cold War Archive -- Photos, audio, history and more.
"Thunder and Lightnings" Vulcan Page
Vulcan Restoration Trust (XL426) (UK)
The Vulcan Operating Company (XH558) Operators of the only airworthy Vulcan.
Vulcans in Camera -- A photo-essay of the Vulcan in active service.
Vulcan Shop -- All sorts of Vulcan merchandise.
Vulcan to the Sky Trust -- The home of the charity tasked with maintaining and operating Vulcan XH558, the last airworthy Vulcan.
Vulcan to the Sky Online Store -- Get all your XH558 gifts, memorabilia, and trinkets!
655 Maintenance and Preservation Society (Wellesbourne, UK)


Avro Vulcan books from Amazon.com:
XM607: Falklands' Most Daring Raid:



[Back to Warbird Alley's Main Page]
---
All text and photos Copyright 2016, The Doublestar Group, unless otherwise noted.
You may use this page for your own, non-commercial reference purposes only.
---