Piper L-4 / O-59 / L-18 "Grasshopper"
(Variants/Other Names: Piper J-3 Cub; AE-1; HE-1; See History below for others)
---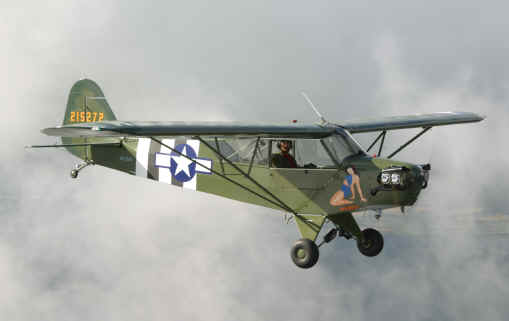 This beautiful Piper L-4A "Grasshopper OY-ECV, Serial No. 42-15272, nicknamed "Mistress," is owned and flown by Thomas S. Damm, an airline Captain in Denmark. Photo by Thorbjoern Brunander Sund.
History: Dating back to a 1930 design called the Taylor Cub, the Piper J-3 Cub design was vastly popular as a civilian trainer and sport plane for at least three years before the US Army Air Corps selected the aircraft to be evaluated as an artillery spotter/director platform. The first J-3s delivered, powered by a 50-hp Lenape Papoose 3-cylinder radial engine, were designated the O-59. 40 were delivered in 1941. Shortly thereafter, the Army ordered a new version powered by a 65-hp Continental O-170-3 flat-four engine. It was originally designated the O-59A, but due to an Army designation change, it was called the L-4A. 948 were eventually delivered, and the nickname "Grasshopper" was almost immediately applied.
Subsequent variants included the L-4B, with reduced radio equipment and a 65-hp Continental engine; the L-4H, which was almost the same as the B-Model; the L-4J, with a variable-pitch propeller; and the L-4C and L-4D, both of which were actually civilian J-3 models pressed into service at the beginning of WWII. The US Navy also purchased 250 Cubs for use as trainers, which they designated NE-1s (and later, NE-2s.)
The Piper J-4E Cub Coupe, powered by a 75-hp Continental A75-9 engine, was purchased by the US Army and designated the L-4E. It featured a fully-enclosed engine cowl, wheel pants, brakes, a fully-castoring tailwheel, and a slightly increased wingspan. The Piper J-5 Cruiser next entered service as the L-4F (75-hp J-5A) and the L-4G (100-hp J-5C), and the US Navy bought 100 modified J-5Cs and called them HE-1s. They were fitted with a hinged turtledeck fuselage, which allowed a stretcher to be loaded. (When the Navy realigned their "H" designation for their helicopters, the HE-1 became the AE-1.) An unusual variant, the TG-8 training glider, consisted of an L-4 fuselage with no engine or landing gear. In the 1950s, during the Korean war, the L-4 was reborn as an improved variant, the L-18, and it served in many of the same roles it had filled in WWII.
The J-3/L-4 not only introduced uncounted thousands of aspiring military aviators the basics of flying, it also became a versatile workhorse of the battlefields of WWII. Many hundreds of J-3s are still airworthy around the world, although it is not known exactly how many of these once wore Army colors as L-4s, since many true L-4s were later sold as surplus and repainted in familiar "Cub Yellow." Most Grasshoppers are highly prized and pampered by their owners, ensuring that their legacy will continue for many years.
Nickname: Grasshopper
Specifications (L-4B):
Engine: One 65-hp Continental A65 flat-four piston engine
Weight: Empty 640 lbs., Max Takeoff 1,100 lbs.
Wing Span: 35ft. 2.5in.
Length: 22ft. 3in.
Height: 6ft. 8in.
Performance:
Maximum Speed: 92 mph
Ceiling: 12,000 ft.
Range: 250 miles
Armament: None
Number Built:
J-3/L-4: 14,125 Civil; 5703 Military
J-4/L-4: 17
J-5/L-4: Unknown, at least 100 HE-1s
Number Still Airworthy: Unknown, probably over 40 original L-4s, plus hundreds of J-3s.
Links:
J-3Cub.com -- Active Cub forum.
Piper Cub Forum -- Lots of great information about Cubs.
Piper L-4 Page at Fiddler's Green -- A modeler's site, but has some interesting information.
USAF Museum L-4A Page


[ Pilot Report by Bud Davisson ]



[ Featured Aircraft ] A look at Steve Dunn's beautiful L-4E.

L-4 Cockpit Photo:



(Click for larger)



[ Click for more great books about Liaison aircraft,
including Piper Cubs and Grasshoppers! ]


[Back to Warbird Alley's Main Page]
---
All text and photos Copyright 2016 The Doublestar Group, unless otherwise noted.
You may use this page for your own, non-commercial reference purposes only.
---