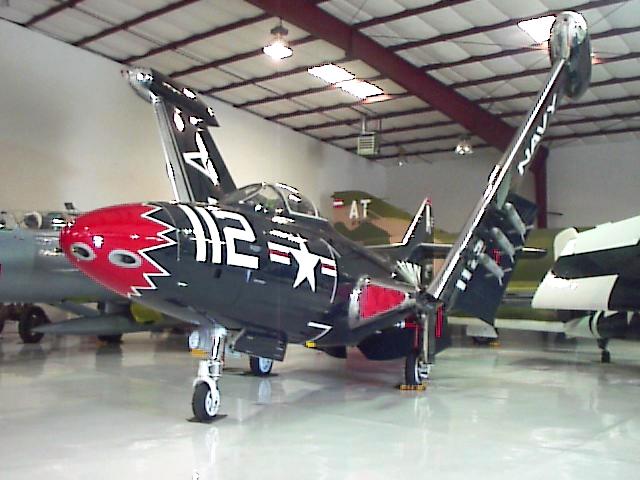 The Cavanaugh Flight Museum, Addison, Texas, USA owns the last flyable Grumman Panther,
a 1952 model, registered N9525A, Photo by Buck Wyndham.
History: Emerging from World War II as one of the most potent fighting arms on the planet, the US Navy recognized that the day of the piston-engine fighter was drawing to a close. Having supplied the fleet with the Tigercat and Bearcat, Grumman began design work on a carrier-based fighter to rival the McDonnell FH-1 Phantom. A conventional design with straight wings and excellent low speed characteristics, the first of 567 F9Fs reached the fleet in 1949 powered by two Rolls-Royce Nene engines providing 5,000 pounds of thrust.
They were none too soon. On August 6, 1950, Panthers were the first carrier jets to see action in Korea and performed almost half of all attack missions for the Navy and Marine Corps. Armament included four 20mm cannon plus two bombs or an assortment of rockets. Among the major Panther variants were the F9F-2B, a modified ground attack version with hardpoints for underwing stores; the F9F-5, the most numerous model, of which 616 were built; and the F9F-5P, an unarmed photo-surveillance version. A swept-wing model, the F9F-6 Cougar with higher speeds, would enter service in late 1951.
At least two Panthers have been restored to airworthy condition and operated as privately-owned warbirds, both in the USA, but only one remains airworthy today.
Nicknames: Unknown
Specifications (F9F-5):
Engine: One 6,250-pound thrust Pratt & Whitney J48-P-6A turbojet engine
Weight: Empty 10,147 lbs., Max Takeoff 18,721 lbs.
Wing Span: 38ft. 0in.
Length: 38ft. 10in.
Height: 12ft. 3in.
Performance:
Maximum Speed: 579 mph
Cruising Speed: 481 mph
Ceiling: 42,800 ft.
Range: 1,300 miles
Armament:
Four 20-mm cannon;
Underwing hardpoints for two 1,000-pound bombs or six 127-mm (5-inch) HVAR rockets.
Number Built: ~1300
Number Still Airworthy: One
Links:
AeroWeb Aircraft Locator -- F9F Panther
Cavanaugh Flight Museum F9F -- The last flyable Panther!
Military History (April '96) feature -- F9Fs against MiG-15s


[Back to Warbird Alley's Main Page]
---
All text and photos Copyright 2016 The Doublestar Group, unless otherwise noted.
You may use this page for your own, non-commercial reference purposes only.
---