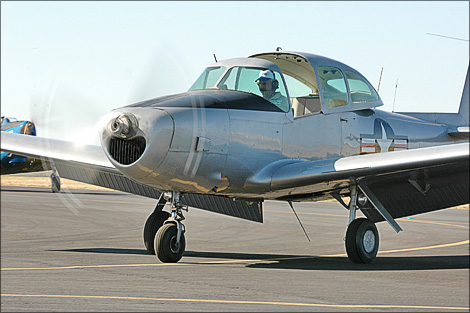 Photo by Max Haynes - MaxAir2Air.com
History: As the German air industry was throttled back by the Versailles Treaty after W.W.I, so was the American aviation industry reduced by the cessation of hostilities and the misreading of the American private aircraft potential after WWII. Returning GI's either had no interest in flying because of their combat experiences, or couldn't afford aircraft as they tried to resume their lives, get an education, buy homes, and so on. Thus, while many aircraft manufacturers converted their assembly lines to new or revived civilian lines, the well of purchasers ran dry within a few years of war's end. If North American Aviation was different, it was a matter of degree, not kind. When WWII ended, the North American production facilities that had been pumping out P-51 Mustangs, B-25 Mitchell bombers and T-6 Texan trainers were suddenly pumping nothing, which North American quickly changed by activating the four-place 185hp NA-145 "Navion" monoplane design for the civilian market.

With 1,109 built during 1946-47, the plane was initially highly successful, even attracting the interest of the United States Army Air Force, for which a prototype, designated L-17, was developed in 1946. In production, 83 of the craft, designated L-17A, were manufactured that year as liaison aircraft, personnel/cargo carriers, and as trainers with the university-based Reserve Officers Training Corps flight training program. Six of the aircraft were used as target drones.

Ryan Aeronautical Company acquired the design and manufacturing rights for the Navion and sold an additional 158 L-17Bs (a new and improved version of the design) to the newly established United States Air Force. These were delivered to the USAF in 1948, and five more were ordered in 1949 when production of the L-17 ended. Thirty-five of the A models were subsequently upgraded into L-17Cs via improvements to the brakes and an expansion of the plane's fuel capacity.

When the all-service renaming of aircraft took place in 1962, surviving L-17s were re-designated U-18. The Navion was retired from active service shortly thereafter, some surviving to the present as civilian aircraft. Counting the military products, Ryan manufactured 1,240 Navions between 1949-51.

The Navion was then dormant from 1951 until 1957, until Tubular Service and Engineering Co. (TUSCO) acquired the design and tooling from Ryan. TUSCO upgraded the powerplant options for new and existing Navions, designing speed and efficiency options in Navion models D, E and F. TUSCO also designed and produced about 120 of a Navion Model H variation, the Rangemaster, which replaced the sliding canopy entry with a cabin door. True to its name, the Rangemaster also had a significantly enlarged fuel capacity that increased its range to more than 1800 miles from the original 700 mile range of the Navion.

This brought the total number of Navions manufactured until 1964 to 2,469, with about 246 of that total being L-17s.

After TUSCO, the Navion passed though various corporate hands, with another 50-60 of the "Rangemaster" 285 hp models produced between 1964 and 1976. In 2003, Sierra Hotel Aero, Inc. of South St. Paul, Minnesota, USA, acquired the type certificate, tooling and a substantial manufacturing parts inventory, and in 2013 claimed to be working toward bringing the aircraft back to production.
Nicknames: The "Poor Man's Mustang"
Specifications (L-17A):
Engine: One 185-hp Continental O-470-7 piston engine
Weight: Empty 1,945 lbs., Max Takeoff 2,950 lbs.
Wing Span: 33ft. 5in.
Length: 27ft. 6in.
Height: 8ft. 7in.
Performance:
Maximum Speed: 163 mph
Ceiling: 17,000 ft.
Range: 700 miles
Armament: None
Number Built: 2,469 Navions (Approximately 246 built as military L-17s.)
Number Still Airworthy: Unknown

[ Flight Report by Budd Davisson ]
Links:
AeroWeb L-17 Page
American Navion Society ("Navioneers")
Johnny Rister's Place -- Navion photos
L-17.org -- "Preserving Navion military heritage"
Navion Aircraft, International -- The Navion factory and type certificate holder.
Navion Pilots Association -- Organization of Navion owners, pilots, mechanics and enthusiasts.
Navion Skies -- Service manuals, parts manuals and technical information about Navions.
Sierra Hotel Aero -- Navion support and STCs.
Southern Navion Air Group (SNAG) -- Navion owners and pilot's group.
TwinNavion.com -- Information about the twin-engine Navion.
Warbird Video Navion page
Books: Browse a selection of books about liaison aircraft.




[Back to Warbird Alley's Main Page]
---
All text and photos Copyright 2016 The Doublestar Group, unless otherwise noted.
You may use this page for your own, non-commercial reference purposes only.
---