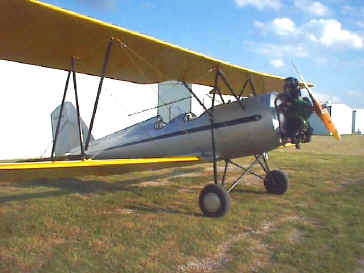 This 1941 Meyers OTW, N34310, is operated by the Pioneer Flight Museum, Kingsbury, Texas.
History: Born in Allenhurst, New Jersey, in 1908, the son of Swiss immigrants, Allen H. Meyers grew up on a farm in upper New York State. The fact that his father was a graduate of ETH, the Swiss equivalent, perhaps, of MIT, influenced Meyers' development. Growing up with ready access to his father's engineering notebooks and drawings, and the fact that their farm lay beneath one of the early flyways used by pioneering aviators, Meyers was infused with a lifelong dedication to aviation and aircraft design.

When, in the mid-1920's, he experienced flight for the first time, his fate was sealed. After graduating from high school he sought, in vain, for a college curriculum in aviation. The field was too new for a curriculum to have been developed, so he embarked on a learning experience of his own making, apprenticing with such early aircraft manufacturers as Chance Vought, Glenn Martin of Baltimore, and Stinson Aircraft Corporation of Wayne, Michigan, beginning as a "tin smith" working in aircraft metal. During that time, he learned to fly, earned his private pilot's license, and purchased a WACO-10 (OX-5), with which he instructed, flew cross country during an era of few navigational aids and limited facilities, barnstormed, and began to imagine a better aircraft design. During 1933-34, he began to polish the design concept for his first plane later to be called the OTW ("Out to Win").

While working for Stinson Aircraft as a sheet metal worker, he read everything he could find about aircraft design, studied engineering and mathematics in night school, and began building the fuselage of his plane in a small garage in Wayne, Michigan.

The first test flight, on 10 May 1936, made headlines in the Detroit News when, after nine hours of testing, Meyers flew the plane to Middleburg, New York, upon learning that his mother had been severely burned in a fire. The plane and Mrs. Meyers fared well. That aircraft, the Meyers OTW, a two-place, tandem-seat biplane, featured an all-aluminum, oval-shaped, monocoque fuselage (wherein the surface metal is a major structural component), with abundant strengthening bulkheads, aluminum tail surfaces, and a wide landing gear with long struts that seems to anticipate the landing gear of the postwar Cessna in its effect.

Early models of the OTW were powered by 125-hp (OTW-125) or 145-hp Warner "Scarab" (OTW-145) engines, with the later models powered by 160-hp Kinner R5 engines (OTW-160).

Most of the 102 OTWs manufactured in the Meyers' Tecumseh, Michigan, plant, were used as primary trainers during World War II, one of two planes later approved for aerobatic training use in the armed services, where it earned a reputation for being an excellent aerobatic machine.

With at least 25 OTWs restored and flying, and with all three types represented in that number, the OTW may very well be a phenomenon among warbirds, with nearly one quarter of the total manufactured still in use.
Nicknames: Old Time Wreck, Out to Win.
Specifications (OTW 160):
Engine: One 160-hp Kinner R5 five-cylinder radial piston engine
Weight: Empty 1,325 lbs., Max Takeoff 1,910 lbs.
Wing Span: 18ft. 4in.
Length: 22ft. 6in.
Height: 8ft. 6in.
Performance:
Maximum Speed: 120 mph
Ceiling: 15,500 ft.
Range: 280 miles
Armament: None
Number Built: 102
Number Still Airworthy: 25+

[ Meyers OTW Pilot Report by Budd Davisson ]
Links:
Lubbock, Texas newspaper article on Texas Air Museum OTW
Pioneer Flight Museum -- Meyers OTW page
Russell-Aire Meyers OTW site -- Includes information for owners.



[Back to Warbird Alley's Main Page]
---
All text and photos Copyright 2016 The Doublestar Group, unless otherwise noted.
You may use this page for your own, non-commercial reference purposes only.
---