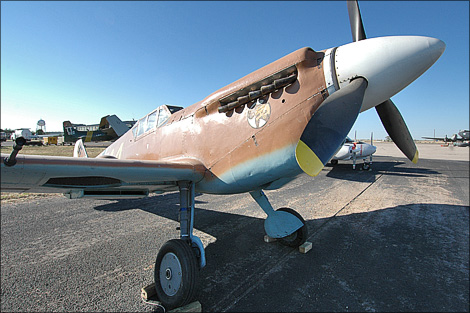 Hispano HA-1112 Buchon (A Spanish-built, Rolls-Royce Merlin powered version of the Bf-109)
Photo by Max Haynes - MaxAir2Air.com
History: In the mid-1930s, the Luftwaffe began to modernize its fighter aircraft fleet. A competition for new designs was held, resulting in at least four competitors. Two designs were selected for further development, one being Willy Messerschmitt's Bf 109, a single-seat derivation of his previously-successful Bf 108 design. The first -109 prototype, powered by a 695-hp Rolls-Royce Kestrel engine, first flew on 28 May 1935. The second prototype was fitted with the engine for which it had been designed, the 610-hp Junkers Jumo 210A. Pre-production prototypes had various combinations of armament and engines.

The first production model, the Bf 109B-1, was delivered in early 1937 to the JG132 'Richthofen' squadron, Germany's top fighter unit. The new fighters quickly established a good combat reputation in the Spanish Civil War later that year. The next production variant, the Bf 109C-1, appeared in the fall of 1937, and utilized a more powerful 700-hp Jumo 210Ga engine. Demand for the airplane was so great that it was built under license by no fewer than four other companies, including Arado, Erla, Focke-Wolf and Fieseler.

By the time World War II began in 1939, the Luftwaffe had more than 1,000 Bf 109s in service, and it was to play a major role in all further fighter operations. Allied bombing gradually slowed German aircraft production, but -109s were also built by WNF in Austria, and in Hungary. During and after the war, Messerschmitt exported thousands of Bf-109s to Bulgaria, Finland, Hungary, Japan, Romania, Slovakia, Spain, Switzerland, the USSR and Yugoslavia. In addition, Spain's Hispano company produced the Bf 109 under license beginning in 1945, calling it the HA-1109. Their HA-1110 and HA-1112 variants were two-seater and modified single seaters, respectively. Several engines were fitted, including the 1300-hp Hispano-Suiza HS-12Z-89 and the 1400-hp Rolls-Royce Merlin 500-45.

Yet another source of Bf 109 production was Czechoslovakia, where the Avia company supplied S-99 and S-199 variants, many of which remained in service until 1957.

Total production is estimated at 35,000, making it one of the most numerous aircraft types of the war.
Nicknames: Augsburg Eagle; Buchon "Pounter Pigeon" (HA-1112); Mezec "Mule" (Avia S-199); Anton (A-Model); Bertha (B-Model); Clara (C-Model); Dora (D-Model); Emil (E-Model); Fritz (F-Model); Gustav (G-Model); Beule/Bump (Bf-109G-1 Trop); Toni (T-Model).
Specifications (Bf-109G-6):
Engine: 1800-hp Daimler-Benz DB-605 inverted V-12 piston engine
Weight: Empty 5,893 lbs., Max Takeoff 6,945 lbs.
Wing Span: 32ft. 6.5in.
Length: 29ft. 7in.
Height: 11ft. 2in.
Performance:
Maximum Speed at at 23,000 ft: 385mph
Ceiling: 38,500 ft
Range: 450 miles
Armament:
Two 13mm (0.51-inch) MG131 machine guns
Three 20mm MG151 cannon
Number Built: ~35,000
Number Still Airworthy: ~10 (approximately two-thirds are HA-112s.)

[ Bf 109 Pilot Report ]

(.PDF document)
Hispano HA-1112 Buchon Cockpit Photo:



(Click for larger version)
Links:
Bf109.com -- "A centralized wealth of information about the Bf 109."
Dakota Messerschmitts -- Full-scale flying replicas.
Falcon's Bf 109 Hangar -- Photos and information.
It's Russian
Flug Werk, Gammelsdorf, Germany -- Bf 109 parts and restorations.
Hartmair Leichtbau -- New-built Bf-109s.
Messerschmitt Bf-109 Cockpit -- Detail photos.
Preserved Axis Aircraft - Bf 109 -- Details about all the -109s still in existence.
Warbird Recovery -- Colorado, USA-based organization leading the restoration of two Bf-109s.



[ Click for more books about the Bf 109! ]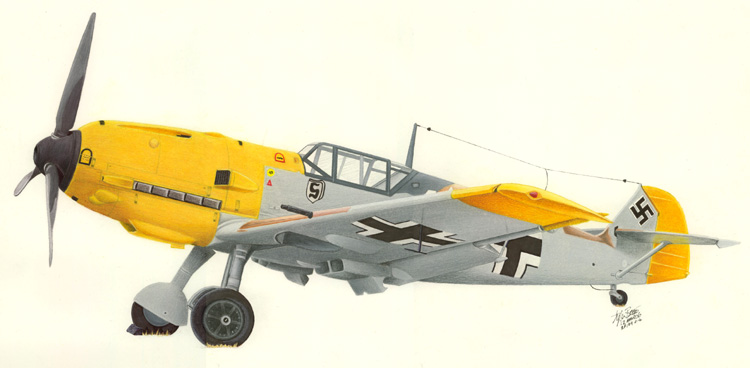 Bf-109 E-4
( Illustration courtesy of Lyle Brown )


[Back to Warbird Alley's Main Page]
---
All text and photos Copyright 2016 The Doublestar Group, unless otherwise noted.
You may use this page for your own, non-commercial reference purposes only.
---