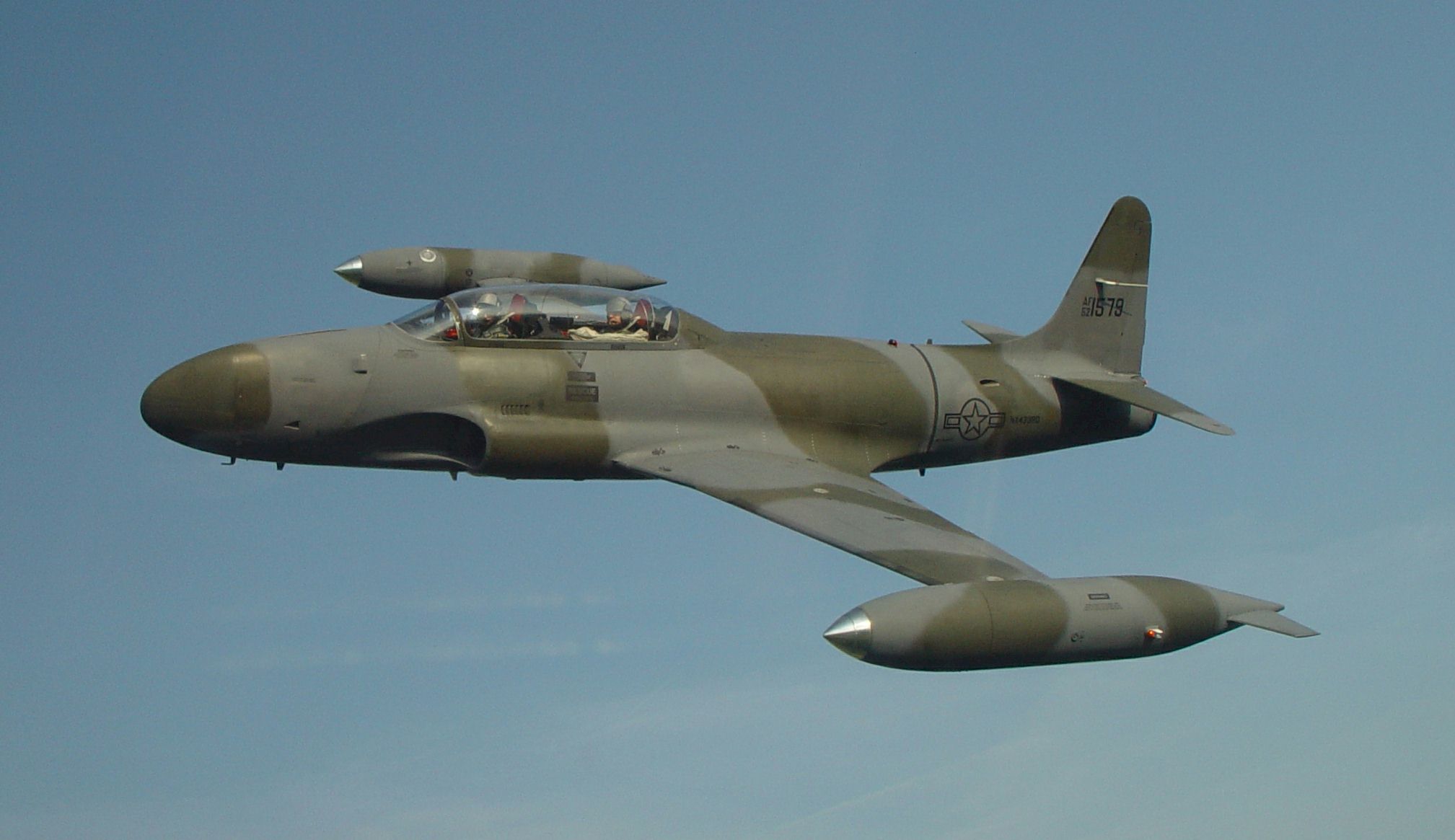 Paul Keppler flies his beautiful Rolls-Royce powered CT-133, which he acquired in 2002 from the
Canadian Armed Forces. (Photo by Aaron Marshall)
History: The T-33 was the most widely used jet trainer in the world. A two-seat version of the USAF's first jet fighter, the F-80 Shooting Star, the T-33 continues to serve in various armed forces today.

The T-33 is a F-80 with a lengthened fuselage to make room for the second tandem seat. It entered service during the 1950s, and the US Navy also acquired the type and had it modified for blue-water operation as the TV-2. It was the USAFs first jet trainer. It soon was dubbed the 'T-Bird' and was being produced under license in both Japan and Canada. In Japan, Kawasaki built 210 of these trainers. In Canada, the T-33 was designated the CL-30 Silver Star and the Allison turbojets of the original were replaced with Canadian built Rolls-Royce Nene 10 engines. The type still serves as a trainer for both countries. Limited numbers were also produced for export, some being modified to carry light armament. While only 1,718 P-80 Shooting Stars were built, nearly 7,000 T-33s saw active service around the world.

Until recently, the T-33 continued to serve in Canada as a target tug and general utility aircraft, having been re-designated the CT-133. Additional examples are still in active military service in Japan and several other nations. About 50 are in the hands of warbird operators, mostly in the United States.
Nicknames: T-Bird; Wakataka ("Young Hawk") (Kawasaki-built T-33s in the Japanese Air Self-Defense Force)
Specifications (T-33A):
Engine: One 5,200-pound thrust Allison J33-A-35 turbojet engine
Weight: Empty 8,084 lbs., Max Takeoff 14,442 lbs.
Wing Span: 38ft. 10.5in.
Length: 37ft. 9in.
Height: 11ft. 8in.
Performance:
Maximum Speed: 600 mph
Ceiling: 46,800 ft.
Range: 1,345 miles
Armament: None
Number Built: ~7,000
Number Still Airworthy: Unknown number in active military service; At least 50 operated as privately-owned warbirds.
Links:
AeroWeb T-33 Page
Air Combat Warfare International, Breslau, Ontario, Canada -- Contract T-33s available for test work, training, DACT, etc.
Aviation History Online Museum -- Lockheed P-80
Boeing "Skyfox" history (T-33 variant)
Go Thunderbirds -- Marketing of T-33 aircraft.
"Old Pilots and Old Memories": Joe Connell goes for a nostalgic flight in a T-33.
Preserved Military Aircraft: T-33 and F-80
"Red Knight" -- T-33 jet airshow act.
T-33 Heritage Foundation -- Non-profit heritage foundation; flies a T-33.
T-33/T-1/CT-133 Reference Sources at AeroKnow.com
USAF Museum T-33 Page
Special Feature: "A Ride in a T-33" -- Contributor Gordon Feliciano shares his flight experience.




[Back to Warbird Alley's Main Page]
---
All text and photos Copyright 2016 The Doublestar Group, unless otherwise noted.
You may use this page for your own, non-commercial reference purposes only.
---