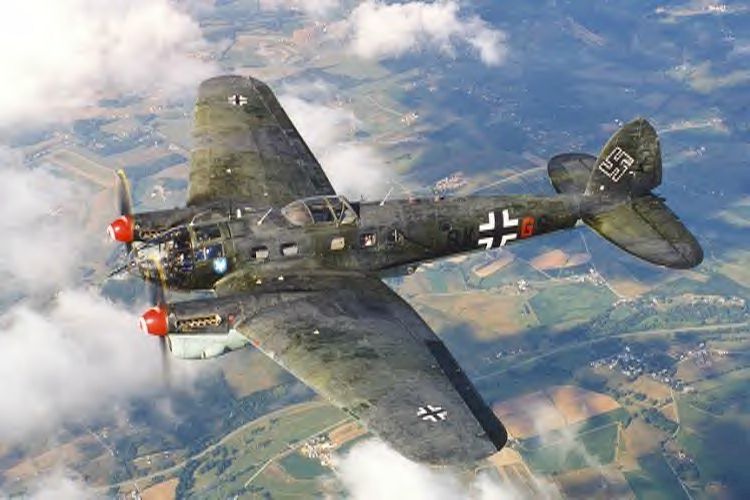 This CASA 211 was owned and operated by the Commemorative Air Force, Mesa, Arizona, USA. Photo taken over Frederick, Maryland, USA in August 2000 by Gregory Witmer, from Larry Kelley's B-25 "Panchito." This aircraft was lost in an accident in July 2003.
History: When World War I ended, the German Air Force was disbanded under the Treaty of Versailles, which required the German government to abandon all military aviation by October 1, 1919. However, by 1922, it was legal for Germany to design and manufacture commercial aircraft, and one of the first modern medium bombers to emerge from this process was the Heinkel He 111, the first prototype of which an enlarged, twin-engine version of the single-engine mail-liaison He 70, which set 8 world speed records in 1933 flew in February of 1935. The second prototype, the He 111 V2, had shorter wings and was the first civil transport prototype, capable of carrying 10 passengers and mail. The third prototype, He 111 V3 also had shorter wings and was the first true bomber prototype. Six He 111 C series airliners were derived from the fourth prototype, the He 111 V4, and went into service with Lufthansa in 1936, powered by a variety of engines, including BMW 132 radials. The first production models had the classic stepped windshield and an elliptical wing, which the designers, Siegfried and Walter Gunter, favored.

As a military aircraft, it took longer to gain favor, because military load requirements and underpowered engines kept its cruising speed down to less than 170 mph. However, in early 1936, the plane was given 1,000 hp Daimler Benz DB 600A engines which improved performance dramatically enough to bring in substantial orders. The first two mass-production versions, He 111 E and He 111 F experienced great success during the Spanish Civil War, where they served with the Condor Legion as fast bombers, able to outrun many of the fighters sent against them.

In fact, the experience in Spain generated a false sense of security in which the Germans thought that the He 111's light armament and speed would be sufficient in the coming war. Thus, although it was out of date, the large numbers in which it had been produced made the He 111 the Luftwaffe's primary bomber for far too long in the war, availability being more persuasive than practicality for this serviceable, but highly vulnerable, aircraft. Modern fighters like the Supermarine Spitfire and the Hawker Hurricane proved the He 111's inadequacy during the Battle of Britain. As soon as possible, the Luftwaffe replaced the Heinkel with the Junkers Ju 88, reassigning the Heinkel to night operations and other specialized tasks until, by war's end, it was being used primarily as a transport.

More than 7,300 had been built for the Luftwaffe by autumn, 1944, with another 236 (He 111H) being built by the Spanish manufacturer, CASA, during and after the war (as the CASA 2.111), some with the traditional Jumo 211 engines, some with Rolls-Royce Merlins. In service with the Luftwaffe from 1937 to 1945, the Heinkels remained in Spanish service until 1965.

One of the more bizarre adaptations of the Heinkel by the Luftwaffe was the He 111 Z-1, in which two He 111s were joined at the wing with a special section containing a fifth engine. Two prototypes and 10 production models were manufactured, their purpose being to provide the power to haul the huge Messerschmitt Me 321 transport gliders.

The sole remaining He 111 in regular use was owned by the Arizona wing of the Commemorative Air Force in the USA. It was a Spanish-built CASA 2.111D that was used to transport VIPs during the Franco regime. Unfortunately, it was destroyed in a crash in July 2003. Another He 111 is currently under restoration in the USA.
Nicknames: Pedro (Condor Legion nickname).
Specifications (He 111H-16):
Engines: Two 1,350-hp Jumo 211F-2 inverted V-12 piston engines
Weight: Empty 19,136 lbs., Max Takeoff 30,865 lbs.
Wing Span: 74ft. 1.75in.
Length: 53ft. 9.5in.
Height: 13ft. 1.25in.
Performance:
Maximum Speed at Sea Level: 227 mph
Ceiling: 21,980 ft.
Range: 1,212 miles
Armament:
One 20-mm MG FF cannon;
One 13-mm (0.51-inch) MG 131 machine gun;
Three 7.92-mm (0.31-inch) MG 81Z machine guns;
Internal bomb-load of 2,205 pounds.
Number Built: 7,300+
Number Still Airworthy: None, but one is currently under restoration.
Links:
Battle of Britain Historical Society: He 111 History Page
Canadian Aces He 111 Page
C.J. Chapman's report: He 111 visits Kingston, Ontario, Canada
Hope Pilots Association: "He 111 -- Gone, But Not Forgotten"
It's Russian
Richard Seaman's He 111 Photos
Warbirds Resource Group: He 111 Page
WWII Relics Site: He 111 Page


[Back to Warbird Alley's Main Page]
---
All text and photos Copyright 2016 The Doublestar Group, unless otherwise noted.
You may use this page for your own, non-commercial reference purposes only.
---