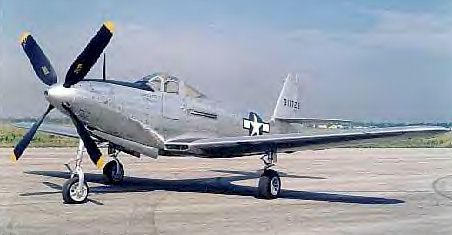 (Photo source unknown. Please contact us if you deserve credit.)
History: The close sibling of the P-39 Airacobra, the Kingcobra was bigger and faster than its baby sister. The sturdy and capable Kingcobra was flown mainly by the Russians on the Eastern Front of World War Two.

Early in the development of the P-39, experiments were aimed at improving the plane's aerodynamics. The P-39D was used as a starting point for three prototypes, each with a new laminar-flow wing and tail unit. The three experimental aircraft were dubbed the XP-39E. These were powered by Allison engines because the inverted-vee piston-engine from Continental was unreliable. Two of the prototypes were lost while being evaluated by the U.S. Army Air Corps, and a slightly modified design, the XP-63A, was built. The Allison engine in the XP-63A had provision for emergency water injection that could boost the available power to 1,500-hp for a short period of time. Production of the P-63 Kingcobra for the USAAC began in October of 1943, and nearly 3,300 aircraft were produced before the end of the war. Under lend-lease, the Russians bought 2,400 Kingcobras, and a further 300 were flown by the Free French. The rest were restricted to training squadrons in the United States by the USAAF.

About 300 P-63s were turned into RP-63 flying targets for dogfight practice with frangible bullets. All armor and armament were removed from these planes, and a skin of duralumin protected the wings, fuselage and tail. Bulletproof glass was installed, steel grilles were put over the air intake, and a steel sleeve protected the exhaust stacks. A propeller with thick, hollow blades was also installed. When a hit was scored, a red light came on in the cockpit to indicate where the P-63 had been shot.

Production of the P-63 ended on VJ-Day. Only a half-dozen P-63s remain flying today.
Nicknames: Pinball (RP-63 variant)
Specifications:
Engine: One 1,325-hp Allison V-1710-93 inline piston engine
Weight: Empty 6,375 lbs., Max Takeoff 10,500 lbs.
Wing Span: 38ft. 4in.
Length: 32ft. 8in.
Height: 12ft. 7in.
Performance:
Maximum Speed at 25,000 ft: 410 mph
Cruising Speed: 378 mph
Ceiling: 43,000 ft.
Range: 450 miles (2,200 miles in ferry configuration)
Armament:
One 37-mm M4 cannon
Two nose-mounted 12.7-mm (0.5-inch) machine guns
Up to three 522-pound bombs
Number Built: ~3,300
Number Still Airworthy: 3
Links:
AeroWeb P-63 Reference Page
CAF Dixie Wing -- P-63 Restoration
CAF West Houston Squadron -- P-63F Page
"Cobras over the Tundra" book
USAF Museum -- P-63 Research Page

Recommended P-63 King Cobra book from Amazon.com:



[Back to Warbird Alley's Main Page]
---
All text and photos Copyright 2016 The Doublestar Group, unless otherwise noted.
You may use this page for your own, non-commercial reference purposes only.
---