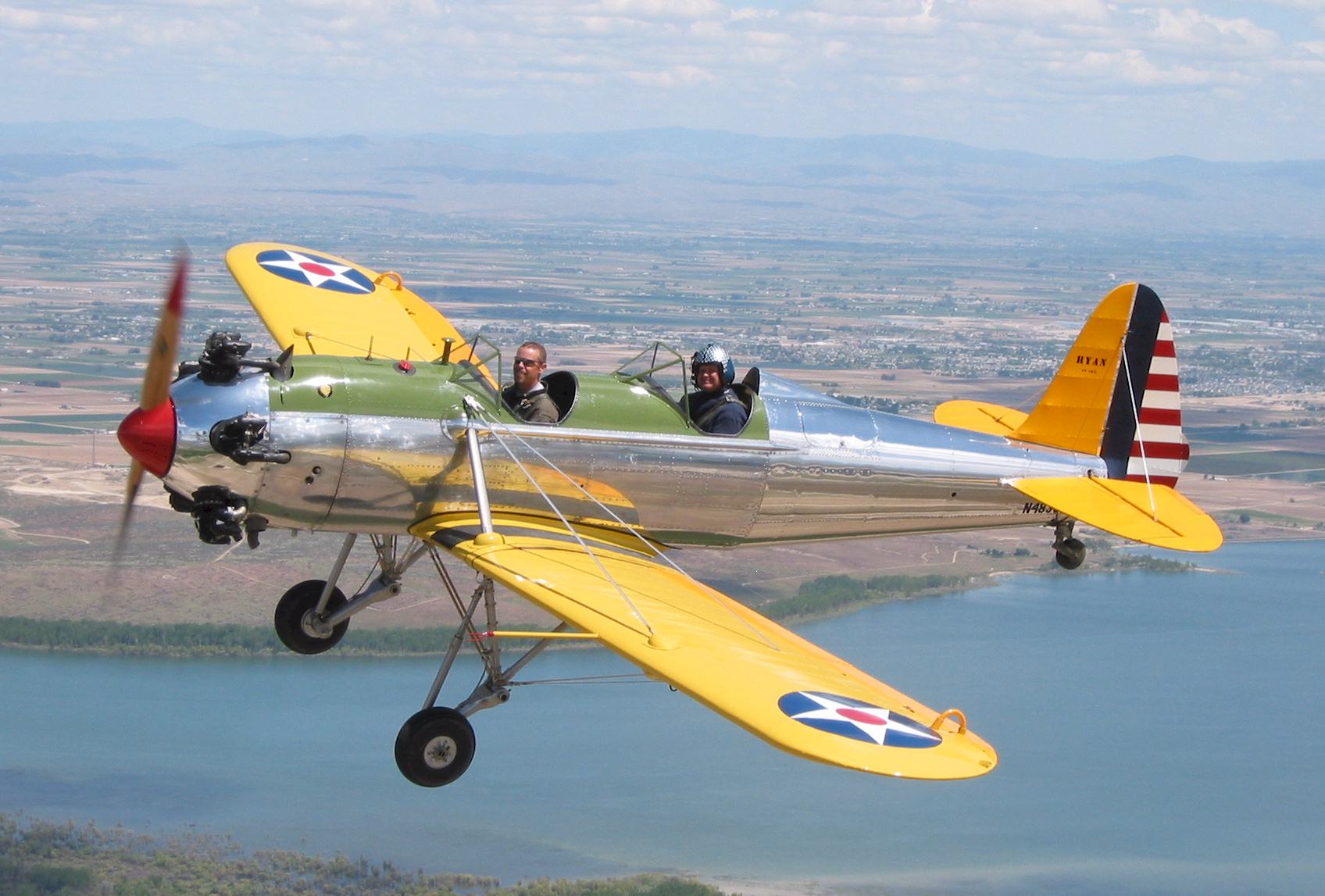 Photographer Larry Lamb captured this beautiful Ryan PT-22 Recruit, owned and flown by Bob Alexander, as it gleamed in the sun over Lake Lowell, Idaho, USA. Copilot Shawn Leckie. SNJ-6 photo ship flown by Gary Hubler.
History: The Ryan Recruit was the U.S. Army Air Corps' first monoplane primary trainer. Initial testing of a single RYAN S-T-A (Sport-Trainer-A) resulted in an order for 15 more aircraft, re-designated the YPT-16, for evaluation in 1939. Finding this tandem two-seater to be an excellent design, the USAAC ordered a production batch of 30 aircraft, designated the PT-20. In 1941, the Army decided a new more powerful engine was needed to endure the rigors of training new pilots. Ryan Aeronautical replaced the inline engine of the previous version with a Kinner radial engine. The resulting PT-21 was so superior that many PT-16s and PT-20s were upgraded with the new engine, becoming PT-16As and PT-20As.
With flight training programs expanding across the United States, 1,023 more planes were ordered. These had an improved Kinner radial, no wheel spats, and the deletion of the main landing gear fairings. This became the PT-22. The Navy also ordered the Recruits and re-designated them as NR-1s, and the Netherlands ordered 25 Recruits and called them NR-3s. The Navy used these trainers until 1944, and the USAAC would retire the Recruit at the end of World War Two.

Today there are flying examples of each variant to be found across North America. There are also examples operated by warbird enthusiasts in the UK and Australia.
Nicknames: "Maytag Messerschmitt"
Specifications (PT-22):
Engine: One 160-hp Kinner R-540-1 five-cylinder radial engine
Weight: Empty 1,313 lbs., Max Takeoff 1,860 lbs.
WIng Span: 30ft. 1in.
Length: 22ft. 5in.
Height: 6ft. 10in.
Performance:
Maximum Speed: 131 mph
Ceiling: 15,000 ft.
Range: 352 miles
Armament: None
Number Built: ~1273
Number Still Airworthy: 80+

[ Ryan PT-22 Pilot Report by Budd Davisson ]

[ More PT-22 Photos ]


Cockpit Photo (Ryan ST3KR N48608):



(Click to enlarge)

Links:
AeroWeb PT-22 Reference Page
Cavanugh Flight Museum (Texas, USA) PT-22
Commemorative Air Force (CAF) Minnesota PT-22
Ryan PT-22: Not Just Another Pretty Face (AOPA article)
USAF Museum PT-22


[Back to Warbird Alley's Main Page]
---
All text and photos Copyright 2016 The Doublestar Group, unless otherwise noted.
You may use this page for your own, non-commercial reference purposes only.
---