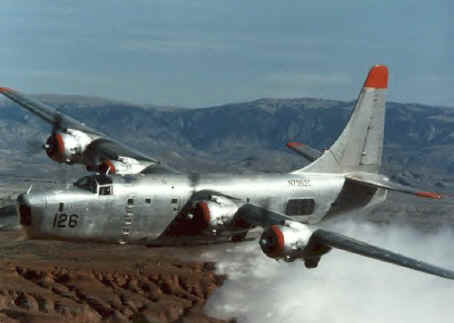 Tanker #126, operated by Hawkins and Powers Aviation, Greybull, Wyoming, USA.
(Photographer unknown. Thanks to H&P Aviation)
History: During World War II, the B-24-derived PB4Y-1 Liberator (originally designed for the US Army Air Corps) had performed very well for the US Navy as a maritime patrol plane, but in 1943 it was decided to 'navalize' the aircraft as a dedicated long-range patrol bomber. Three B-24's were taken off the assembly line and reconfigured with lengthened fuselages, greater defensive armament, modified engine cowlings and a distinctive, single vertical tail. The resulting aircraft was designated the PB4Y-2 Privateer. With its 2,800-mile range, the Privateer was so useful that in the Navy took delivery of 739 of them, though few reached front line service by VJ-Day.
The Privateer went on to perform great service in the Cold War as a radar and electronics-countermeasures platform, having been renamed the P4Y in 1951. Following service with the US Coast Guard, the aircraft was retired in the early 1960s, although a small number were used as fire-bombers in the United States until 2002. One survivor is still actively flown in the USA.
Nicknames: Lamp Lighter (Privateers flying "Firefly" missions in Korea, dropping parachute flares.)
Specifications:
Engine: Four 1350-hp Pratt & Whitney R-1830-94 Twin Wasp radial engines.
Weight: Empty 27,485 lbs., Max Takeoff 65,000 lbs.
Wing Span: 110ft. 0in.
Length: 74ft. 7in.
Height: 30ft. 1in.
Performance:
Maximum Speed: 237mph
Range: 2,800 miles
Armament: 12 12.7-mm (0.5-inch) machine guns
Number Built: 739
Number Still Airworthy: One
Links:
AeroWeb Privateer Reference Page
Eduardo's Page -- (Privateer 3-view drawings)
Hawkins and Powers Aviation, Inc. -- Former operators of Privateer fire-bombers in Wyoming, USA.
Lone Star Flight Museum, TX, USA -- Privateer Page
National Museum of Naval Aviation: Privateer
NavyLib.com -- Information about US Navy Liberators and Privateers.
Scott Van Aken's "PB4Y Saga" Page
Submerged Cultural Resources Exploration Team (SCRET): Privateer Page
US Navy Pacific-Based PB4Y Squadrons in WWII
US Navy Patrol Squadrons "VPNavy" Privateer Page


[Back to Warbird Alley's Main Page]
---
All text and photos Copyright 2016, The Doublestar Group, unless otherwise noted.
You may use this page for your own, non-commercial reference purposes only.
---