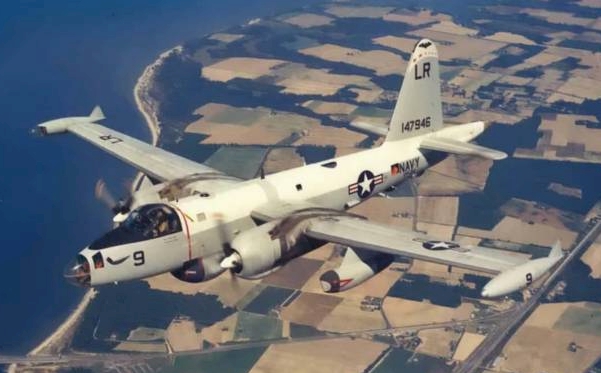 (Photo source unknown. Please contact us if you deserve credit.)
History: First flown on 17 May 1945, the Neptune was designed as a maritime patrol and anti-submarine warfare aircraft, and this dictated that it have extreme endurance and range, in addition to a large internal weapons bay, defensive capabilities and good short-field capability. Its design featured high-aspect ratio wings, a large fuel load and powerful engines -- a combination which eventually resulted in a production Neptune setting a world distance record of 11,235 miles in 1946, by flying nonstop and un-refueled from Perth, Australia to Columbus, Ohio, USA.
Although the Neptune just missed involvement in WWII, it was used extensively in both the Korean War and the Vietnam War, becoming the standard Anti-Submarine Warfare platform for not only the USA but the Netherlands, Japan and many other nations. In addition to the first production model, the P2V-1, many, many additional variants were produced, serving in such roles as Airborne Early Warning (P2V-3W / P-2D), Nuclear weapons carrier (P2V-3C), VIP transport (P2V-3Z), Special-sensor aircraft (OP-2E/AP-2E), Drone controller (DP-2E / DP-2H), crew trainer (TP-2F), Antarctic ski-plane (LP-2J), Electronic surveillance (RB-69A), Target tug (UP-2J) and Gunship (AP-2H).
Today, at least 40 P2Vs still serve in civilian roles, mostly as firebombers in the USA. A few are pure warbirds, providing their proud owners with the great range, endurance and utility that defined the Neptune's success while in military service.
Nicknames: Owashi ("Giant Eagle") (Japanese Maritime Self-Defense Force designation); Firestar (SP-2H fire-bomber developed by Aero Union, Chico, California.)
Specifications (P2V-7 / P-2H):
Engines: Two 3,500-hp Wright R-3350-32 turbo-compound radial piston engines, plus two 3,400-lb thrust Westinghouse J34-WE-36 auxiliary turbojets.
Weight: Empty 49,935 lbs., Max Takeoff 79,895 lbs.
Wing Span: 103ft. 10in.
Length: 91ft. 8in.
Height: 29ft. 4in.
Performance:
Maximum Speed: 403 mph at 14,000 ft.
Ceiling: 22,000 ft.
Range: 3,685 miles
Armament: Two 12.7-mm (0.5-inch) machine guns in dorsal turret, plus rack for underwing rockets, and up to 8,000 lbs of bombs, depth charges or torpedoes.
Number Built: 1,181
Number Still Airworthy: ~40.
Links:
Australian Neptunes
French Fleet Air Arm Neptunes
"The Last Flight of P2V #14" -- Photo essay by "Buzz"
Mid Atlantic Air Museum's P2V Page
Neptune Aviation Services, Missoula, Montana -- Firefighting Neptunes.
Orions, Neptunes and Atlantics Site: Neptune Page
P2VNeptune.com -- The definitive site for Neptune information!
P2V Research Project Pages
VAQ-34 Squadron's P2V Page
VPNAVY.org (U.S. Navy Patrol Squadrons site)


[Back to Warbird Alley's Main Page]
---
All text and photos Copyright 2016 The Doublestar Group, unless otherwise noted.
You may use this page for your own, non-commercial reference purposes only.
---