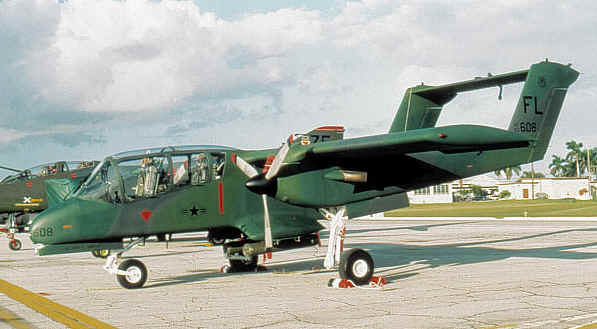 (Photo by Jake Donovan, Capt, USN Ret., at Key West NAS, 1988.)
History: In the early 1960s, the United States Marine Corps needed an airplane for primarily reconnaissance missions with light armament capabilities as well. In response to the USMC's requests, the unique OV-10 Bronco design submitted by the North American (Rockwell) company proved to be as adaptable as the changing times. Seven prototypes were produced in 1964, and on the 16th of July 1965, the first OV-10 took wing. Praised for its high-visibility cockpit and rear cargo compartment, the Bronco was immediately recognized as an all-purpose workhorse. The first production OV-10s were powered by husky Garrett T76-G-416/417 turboprop engines and served the Marines and United States Air Force well. 157 OV-10As saw action in Vietnam in 1968 in service with the USAF.
Although originally outfitted with machine-gun turrets for service in Vietnam, the Bronco's chameleon-like ability to fulfill all kinds of missions became quite evident in its subsequent variations. The most notable version was the OV-10D NOS (Night Observation Surveillance), with more advanced sensor equipment in its nose consisting of infrared equipment, laser targeting capabilities, and other modifications including 20-mm cannon upgrades and beefier powerplants. 17 Broncos saw this conversion take place in 1979-1980, and it became the more favored variant rather than the more complicated YOV-10D NOGS (Night Observation/Gunship System). Only two NOGS supplied the USMC with advanced night operations. In 1991, USMC OV-10D NOS birds participated in Operation Desert Storm primarily for night surveillance. OV-10B variants have served Germany as target tugs, and OV-10F, OV-10C, OV-10E aircraft have been supplied to Indonesia, Thailand, and Venezuela, respectively.
The OV-10 Bronco has been officially retired in the United States since 1994, but some remain in service in the above-mentioned countries as well as Morocco and the Philippines. Domestically, OV-10s work with federal and state agencies as fire spotters. The Bronco is most active in Thailand, where it is involved in FAC and COIN operations near the disputed borders of neighbors Laos and Kampuchea. No matter where it is needed or what it is used for, the versatile, unique-looking OV-10 Bronco will always serve its pilots well.
Nicknames: "Bronc"
Specifications (OV-10D):
Engines: Two 1,040-shp Garret T76-G-420/421 turboprops
Weight: Empty 6,893 lbs., Max Takeoff 14,444 lbs.
Wing Span: 40ft. 0in.
Length: 44ft. 0in.
Height: 15ft. 2in.
Performance:
Maximum Speed at Sea Level: 288 mph
Ceiling: 30,000 ft.
Range: 430 miles in full combat configuration.
Armament: Up to 3,600 pounds of assorted bombs, cannon, machine guns and missiles on five weapon attachment points; plus 1,200 pounds of bombs on two underwing pylons. Wing pylons can also carry missiles or external fuel tanks.
Number Built: Approximately 300
Number Still Airworthy: One is operated as a warbird in France, and at least three fly in private hands in the USA. At least 10 are operated as government-owned fire spotters in the USA.
Links:
Aviation Collectibles of Texas' OV-10 Products
Aviation Enthusiasts Corner -- OV-10 Page
Boeing's OV-10 Page
Earle Aircraft, Inc., Hastings, Florida, USA. -- OV-10 restoration projects
"Eye of the Storm" -- Desert Storm Bronco-shootdown story.
Federation of Amercian Scientists (FAS) OV-10 page
Jirka Wagner's OV-10 Page
OV-10 Bronco.net -- The authoritative source of OV-10 information.
USAF Museum -- OV-10
Virtual Aviation Museum -- OV-10 Page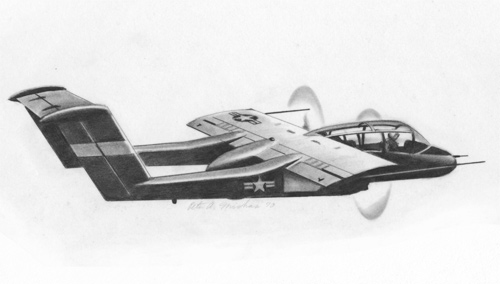 OV-10 Bronco
by Peter Michas




[Back to Warbird Alley's Main Page]
---
All text and photos Copyright 2016 The Doublestar Group, unless otherwise noted.
You may use this page for your own, non-commercial reference purposes only.
---