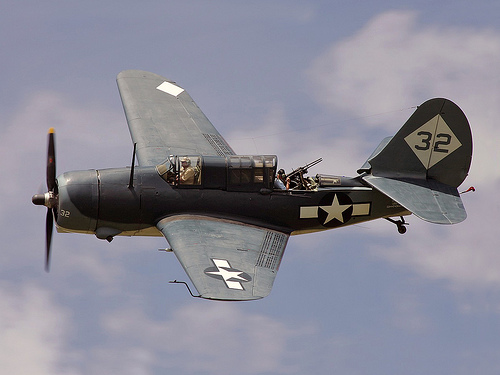 (Photo courtesy CAF West Texas Wing. Photographer unknown.)
History: The Curtiss Helldiver, despite a reputation for being difficult to handle at low speeds, was responsible for the destruction of more Japanese targets than any other aircraft. The Curtiss SB2C single-engine dive-bomber joined the fleet late in 1943, joining the Douglas Dauntless as the primary attack/bombing planes for the US Navy. The two-man Helldiver had a top speed of 295 mph and good range, making it an essential tool in the far reaches of the Pacific war.
With underwing and bomb attachments, the Helldiver could carry 1,000 pounds of bombs or an internal torpedo; later improvements included an up-rated Wright Cyclone engine and rocket hard-points. It carried two fixed forward 20mm cannon and machine guns in the rear cockpit.
Only 26 of the 7,000 Helldivers built found their way to the other services; the plane was so valuable in the Pacific theater that the Navy absorbed nearly every plane. Postwar, the Helldiver found further use with the French, Italian, Greek and Portuguese Navies and the Royal Thai Air Force. Only one airworthy Helldiver remains -- with the Commemorative Air Force in Texas -- but at least one more is under restoration to airworthy status.
Nicknames: Son-of-a-Bitch Second Class.
Specifications (SB2C-4):
Engine: One 1,900-hp Wright R-2600-20 Cyclone 14 radial piston engine
Weight: Empty 10,547 lbs., Max Takeoff 16,616 lbs.
Wing Span: 49ft. 9in.
Length: 36ft. 8in.
Height: 13ft. 2in.
Performance:
Maximum Speed: 295 mph
Cruising Speed: 158 mph
Ceiling: 29,100 ft.
Range: 1,165 miles
Armament:
Two 20-mm wing-mounted cannon and two 7.62-mm (0.3-inch) machine guns in rear cockpit;
Up to 2,000 pounds of bombs on underwing racks and in fuselage bay.
Number Built: ~7,000
Number Still Airworthy: One
Links:
Combat Aircraft of the Pacific War: Helldiver
Helldiver: The Last Dive Bomber -- Article from Aviation History magazine.
Light and Medium Bombers of WWII -- Discussion groups, research information, etc.
Mike Rawson's SB2C Project, Anoka, Minnesota, USA
West Texas Wing's SB2C Helldiver -- Information, tour schedules and ride information for the only flying Helldiver, operated by the West Texas Wing of the CAF.



[Back to Warbird Alley's Main Page]
---
All text and photos Copyright 2016 The Doublestar Group, unless otherwise noted.
You may use this page for your own, non-commercial reference purposes only.
---