deHavilland DH-100/113/115 Vampire
(Variants/Other Names: See History below.)
---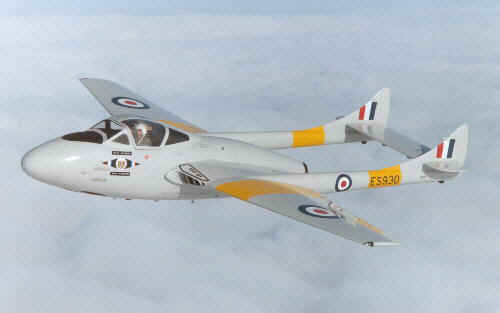 deHavilland T.35 Vampire N11930 (WH930 / ES930), owned and operated for many years
by the late Ed Stead of Manchester, New Hampshire, USA.
History: In September 1943, one of the first jet fighters in history streaked skyward, with Geoffrey deHavilland at the controls. The deHavilland D.H.100 Vampire, a single seater, flew through the design process in just sixteen short months, spurred on by wartime exigencies. Nonetheless, the plane didn't see active service until June, 1946 flying with RAF squadron number 247 under the name Vampire F.MK 1, an aircraft used mostly in an experimental role.
Further development in the design led to the creation of the Vampire F.Mk3 which replaced all of the F.Mk 1's in service with the RAF. The F.Mk3 was also an export fighter with four going to Norway and eighty-five to Canada. Under special arrangement with Australia, eighty were produced by deHavilland Aircraft Pty Ltd. Powered by the Australian-made Rolls-Royce Nene engines, they were reclassified as Vampire FB.Mk 30s. The FB.Mk 5 was a version of the F.Mk3 optimized for the purpose of ground attack. With a strengthened wing and shorter span, it was well suited for this role. (This version drew a lot of worldwide interest, and many were sold to, or license-built by, other nations. Italy's Macchi company built at least 80 Vampires, and France's SNCASE built at least 250 Sud-Est SE 535 Mistrals.)
Another version of the Vampire, the D.H.113 Vampire NF.Mk 10, was a two seat night fighter. The NF.Mk 10's double-wide seating, like that in the deHavilland Mosquito, led to the development of the D.H. 115 Vampire trainer, notable in aviation history as being one of the first planes with ejection seats. The UK's Fleet Air Arm flew a navalized version of the FB.Mk 5 called the Sea Vampire F.Mk 20.
The Vampire line came to an end with the Vampire FB.Mk 9, an air-conditioned version of the FB.Mk 5. All told, 1900 single-seat Vampires were built by December 1953 when production ceased. The old jets flew on however, with several remaining in active service in Switzerland until 1990.
Nicknames: Spider Crab (Original project name); Flying Wheelbarrow / Kiddie Kar (RAF); Aguacate ("Avocado") (Mexican AF)
Specifications (FB.Mk 6):
Engine: One 3,350-pound thrust D.H. Goblin 3 turbojet
Weight: Empty 7,283 lbs., Max Takeoff 12,390 lbs.
Wing Span: 38ft. 0in.
Length: 30ft. 9in.
Height: 8ft. 10in.
Performance:
Maximum Speed: 548 mph
Ceiling: 42,800 ft.
Range: 1,220 miles
Armament:
Four 20-mm cannon in nose
Underwing stores, including eight 60-pound rockets, or two 1,000-pound bombs, or two drop tanks.
Number Built: 2,900+
Number Still Airworthy: 10+

[ Vampire Photos ]
Links:
DeHavilland Aviation, Ltd., Bournemouth Int'l Airport, Dorset, UK
DeHavilland Vampire in Swedish Service
Greg Goebel's Vampire Pages
Vampires at the Northeast Air Museum, UK
Vampire DH-115 for sale at Code 1 Aviation, USA
Vampire Photos at Wikimedia Commons
Vampire Preservation Group, UK -- Operates Vampire T.11 WZ507 (G-VTII)





[Back to Warbird Alley's Main Page]
---
All text and photos Copyright 2016 The Doublestar Group, unless otherwise noted.
You may use this page for your own, non-commercial reference purposes only.
---