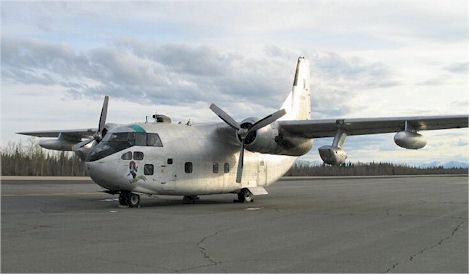 (Photo source: Ardvark Arnold, via FAA Alaska Region.)

History: In 1943, the Chase Aircraft Company was created to design and build a heavy assault cargo glider for the US Army. Several early prototypes eventually led to the production of the XG-20 glider in 1949. The new US Air Force expressed an interest in a powered version of the aircraft, so the company installed two 2,200-hp Pratt & Whitney Double Wasp engines and named it the XC-123 Aviatruc. It was first flown on 14 October 1949.

In 1953, a production order for 300 C-123B Providers was received by the Kaiser-Frazer Company, which had since acquired a majority holding in the Chase Company. When Kaiser-Frazer had production difficulties, Fairchild stepped in and took over the C-123 program. The first production aircraft reached the Air Force in late 1954, and immediately became popular with tactical transport aircrews for its ruggedness and reliability. A small number were delivered to Saudi Arabia, Venezuela, the Philippines, Taiwan and South Vietnam.

In the early 1960s, a couple of Fairchild J-44 turbojet engines were fitted in pods under the wing, giving the aircraft a big boost in performance and resulting in the C-123J. Later, the C-123K variant appeared, which featured two 2,800-lb thrust J85 turbojets in similar pods.

Most US Air Force C-123s served in the Vietnam War, where they served as troop and cargo haulers. Some were utilized as defoliant (Agent Orange) sprayers (UC-123Ks) in Operation Ranch Hand, and at least two were modified as armament-carrying AC-123K / NC-123Ks, which operated at night against enemy truck convoys. The C-123 soldiered on into the 1980s, serving with several Air National Guard units, some being fitted with wheel/ski landing gear for use in Arctic conditions.

Today, surplus C-123s are popular with small freight companies throughout the Americas, and a few are even found on the warbird circuit. Several are repeatedly used in television advertising and movies when the need arises for the representation of a large, generic military cargo aircraft.

Nicknames: Bookie Bird Specifications (C-123K):
Engines: Two 2,300-hp Pratt & Whitney R-2800-99W Double Wasp 18-cyinder radial piston engines, and two 2,850-lb thrust General Electric J85-GE-17 auxiliary turbojets.
Weight: Empty 35,335 lbs., Max Takeoff 60,000 lbs.
Wing Span: 110ft. 0in.
Length: 75ft. 3in.
Height: 34ft. 1in.
Performance:
Maximum Speed: 245mph
Cruising Speed: 205
Range: 1,470 miles
Armament: None Number Built: 302 by Fairchild. (Three additional experimental airframes were built for US Air Force evaluation by the Stroukoff Aircraft Corporation. These included the YC-123D, which was similar to the C-123B but with a boundary-layer control system; a YC-123E with a revised vertical stabilizer and rudder, and retractable land/water skis and floats; and a YC-134A, which incorporated both systems.) Number Still Airworthy: Unknown; Probably at least 40 Links:
"Air America" Aircraft in Vietnam
Air Heritage, Inc. C-123 "Thunder Pig" -- Beaver Falls, PA, USA
Photovault C-123 Photo Page
The Aviation Zone -- C-123 page
USAF Air Mobility Command Museum C-123 Page



C-123 book from Amazon.com:





[Back to Warbird Alley's Main Page]
---
All text and photos Copyright 2016 The Doublestar Group, unless otherwise noted.
You may use this page for your own, non-commercial reference purposes only.
---