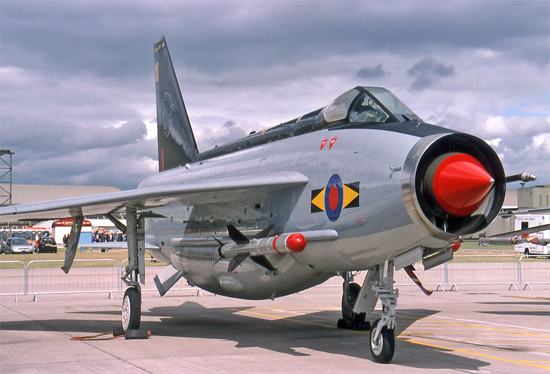 An English Electric/BAC Lightning stands proud on the ramp.
Photo by D. Miller, used courtesy Creative Commons.
History: The Lightning was the result of a supersonic research aircraft called the English Electric P.1A, which first flew in August 1954. The P.1A was the brainchild of W.E. "Teddy" Petter, who also was responsible for the EE Canberra bomber. The P.1A was extensively tested during the mid- to late fifties, and contributed significantly to the Royal Air Force's knowledge about supersonic flight.
In 1954, the design was modified so it could be a practical all-weather interceptor. Three prototypes, designated P.1B, were built, the first of which made its maiden flight on 4 April 1957. In November 1958, the aircraft was re-named "Lightning" and exceeded Mach 2 for the first time. Since the Lightning was such a radically different aircraft from anything that had come before, the RAF ordered 20 additional pre-production aircraft, and tested them thoroughly, before authorizing it to enter active service. Even so, the Lightning was to have enormous teething problems in its first few years and the RAF's "learning curve" was steep.
Throughout its life, the Lightning evolved beyond its initial interceptor role into a very capable strike fighter and reconnaissance platform. The first production Lightning, the F.1, flew in October 1959, and deliveries began in the summer of 1960. It had a powerful radar and heat-seeking Firestreak missiles. A follow-on variant, the F.1A, had air-refueling capability and a UHF radio. The F.2 variant appeared in 1961, and had better range, speed and ceiling, a liquid-oxygen breathing system for the pilot, a steerable nosewheel, fully-variable afterburners, and improved electronics. The F.3, featuring two 16,360-pound thrust Avon engines, a larger square-tip fin, Red-Top missiles, and the capability of carrying two large over-wing fuel pods, entered service in 1964. The F.3A, later re-designated the F.6, was the result of a BAC recommendation to nearly double the Lightning's fuel capacity and to fit it with a redesigned wing. This modification allowed the airplane to carry more, be more efficient, and go faster.
Major export customers of the Lightning were Saudi Arabia and Kuwait, which purchased at least three of the variants, the most notable being the F.53 (F.6). Four two-seat trainer models, the T.4, T.5 and Saudi Arabia's T.54 and T.55, were also produced.
Although the aircraft was very maintenance-intensive in active duty, the first civilian-owned Lightning, ZU-BBD (XS452) took to the air in 1999 in Cape Town, South Africa, with a second, ZU-BEX (XS451) making its first post-restoration flight in the summer of 2000. Two more Lightnings were completed by 2006 in Cape Town, however these South African Lightnings were grounded following an accident. Several other Lightning projects are underway around the globe, so it is possible that, in the future, the warbird community will be once again be able to see and appreciate this magnificent aircraft.
Nicknames: Frightning (Referring to the aircraft's challenging crosswind landing characteristics).
Specifications (F.6):
Engines: Two 13,200-pound thrust Rolls-Royce RA34R afterburning Avon 310 turbojets
Weight: Empty 28,000 lbs., Max Takeoff 50,000 lbs.
Wing Span: 34ft. 10in.
Length: 55ft. 3in.
Height: 19ft. 7in.
Performance:
Maximum Speed at 40,000 ft: 1,500 mph (Mach 2.3)
Ceiling: 60,000 ft.
Range: 800 miles
Armament:
* Two 30-mm Aden guns in ventral pack
* Two Firestreak or Red Top air-to-air missiles, or
44 50.4-mm (2-inch) rockets, or
Five Vinteen 360 70-mm cameras and linescan equipment and underwing flares
* Up to 144 rockets or six 1,000-pound bombs on underwing/overwing hardpoints
Number Built: 339
Number Still Airworthy: One in South Africa. Another additional is under restoration to fly in the USA.
Links:
Anglo-American Lightning Organization -- A Lightning under restoration in the USA.
BAC Lightning Site
Classic Supersonic Jet Flights, South Africa
"Rolling Thunder" Classic Jets Page
"Thunder and Lightnings" Lightning Page
ZF579 -- A Lightning under restoration in the UK.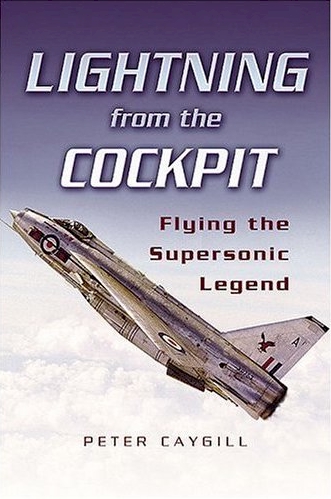 Lightning From The Cockpit:
Flying the Supersonic Legend
By Peter Caygill
Paperback, 192 pages
Published Jan. 2006 by Pen And Sword
This fascinating book is a collection of 16 personal accounts of what it was like to fly the extraordinary English Electric Lightning interceptor-fighter. These are thrilling, first-hand accounts from some of the people who flew them to Mach 2 and beyond.


[Back to Warbird Alley's Main Page]
---
All text and photos Copyright 2014 The Doublestar Group, unless otherwise noted.
You may use this page for your own, non-commercial reference purposes only.
---